Gone are the days when television sets used to be the only appliances in the living rooms. Today, living rooms are evolved into a place with maximum gadgets, entertainment units, and various consumer electronic devices. Innovative applications of the rapidly evolving technology have a huge share in the present day state of the modern homes. Now, the researchers are aiming at bridging the gaps between different gadgets present in the living room, through the concept of connected living rooms. Advanced products and technologies have made this possible, driving the global connected living room market. Innovative applications and growing popularity of this concept is leading to the swift adoption of this technology across different parts of the world, which is a great sign as far as the global industry is concerned.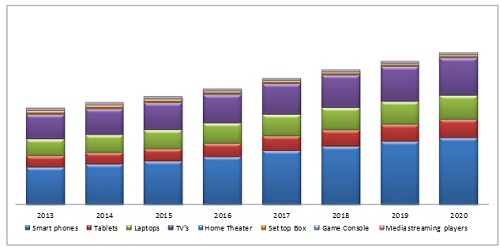 Segmentation in Connected Room Market
In order to understand the basic trends and drivers, the researchers have categorized the global connected living room market on the basis of the types of products available in the market. These products include smartphones, mobiles, tablets, personal computers, laptops, TVs, set top boxes, home entertainment units, home theaters, blu-ray players, music systems and gaming consoles. All these and many more devices have become an irreplaceable part of many households, which is a great sign as far as the demand and adoption ratio of the industry is concerned. Apart from the types of products, the market is also segmented on the basis of the industry components and geographic regions. Analysis of all these factors creates clear picture about the latest drivers, trends and future opportunities for growth in this industry.
Drivers and Future Prospects
The global connected living room market is predominantly driven by the growing popularity of this technology. The aim is to transform the regular living rooms into full-fledged digital entertainment hubs. This is possible with the adoption of different systems and components of the industry. Growing trends of digitization remains the strongest driver for the rising demand for the industry. Innovation, leading to technological advancements is also a crucial factor creating rise in demand for the connected rooms market. Along with the developed regions like North America and Europe, most of the emerging regions are keenly interested in adoption of the advanced and innovative technologies available in the industry.
According to the latest market research reports, the global connected living room market is set to grow at a steady CAGR of over 6% from 2014, which is expected to help the industry to cross $957.65 billion by the end of the year 2020. The reports also suggest dominance of the North America and emergence of Asia Pacific regions as the key market players and investors as far as the revenue drivers and the rate of adoption is concerned.