The overall value chain of high speed camera market is closely interlinked with the traditional image sensors and component industry's value chain, and has been expanding rapidly and shaping into a strong, well-connected chain over the past few years.  Several new frame rate allocations and product developments have come up owing to the potential use of high speed cameras in various applications. The market is dominated by the emerging industrial applications with a high level of innovations growing from year to year and with a high growth rate by the industry machine makers and automation device manufacturers.
The key revenue generators among the different industrial applications in the high speed camera market are the Equipment design and development, Product testing, Equipment set-up and changeovers, Production line speed-up, Machine maintenance/troubleshooting. Apart from these, in the automotive and transportation applications such as crash testing, on board MIL vehicle testing, air bag testing, and safety testing, the high speed cameras are used in a wide range among all the other applications.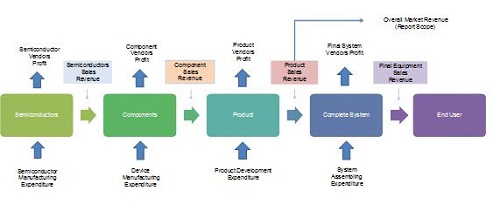 Among the different industrial manufacturing applications the emerging applications are High- resolution Instrumentation, Packaging and Cavitations, Industrial machinery makers, Robotics and automation. High resolution mass instrumentation is a medical field application that covers spectrometry, X-Ray scattering, identifying genetic variation in nucleic acid sequences  and in the packaging and Cavitations, the errors that can be captured with high speed cameras are improper closure of packaging, chipping of bottles or labels applied incorrectly, and so on. Robotics and automation is highest revenue generation segment among all the other applications, because of the requirement of the high speed cameras in different applications such as testing, calibrating and debugging robot mechanisms.
For all these different applications, the main focus is towards innovating new technologies for the easy processing, by offering greater flexibility, safety, reliability, energy savings, wide range of connectivity, self-diagnostic facilities and products with long operating lifetimes for the different market compact components and system integration, innovative products.