Facility management is described as the facilitation method for the coordination of infrastructure, people, space and organizations. Apart from administration of the offices, hotels, hospitals, convention centers and schools, these systems have various other applications. The wide range of applications is increasing rapid adoption of these systems. Changing preferences of the customers are also pushing the companies in the facility management market to come up with advanced technologies. All these factors are expected to create steady demand for the industry across developed as well as developing segments. Growth in competition and new entrants in the industry is expected to create positive growth prospects for the global investors in the market.
Segmentation in Facility Management Industry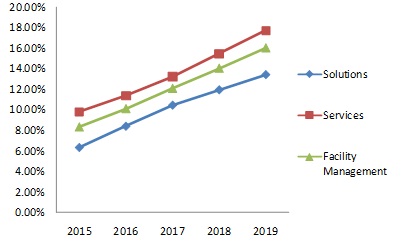 The global facility management market is segmented on the basis of the types of solutions, which include management of maintenance, assets, space, real estate portfolio, lease administration, environment sustainability, energy management, and others. On the basis of the types of services, the market is categorized into deployment and maintenance, design and integration, managed services and consulting services. Business verticals with deployment of the facility management services include BFSI, telecommunication, utilities, public sector, defense and aerospace, healthcare, real estate, infrastructure, manufacturing, logistics, supply chain, ITES, telecommunication, retail and consumer goods, etc. Geographically, the FM industry is segmented into NA, LA, APAC, MEA and EU.
Drivers and Trends in FM Market
According to the advanced research, the global facility management market is strongly driven by advanced developments in the database management, maintenance and handling technologies. Apart from that very high growth rate across all the industrial regions, higher ROI, improving infrastructure and technological advancements in the global market are expected to be the major driving factors for the industry. Development of new facilities and rapid adoption across the developing regions are also expected to be vital driving factors for the industry. Key investments and expansion and merger plans from the industry leaders are expected to create positive atmosphere in the industry. Major investments from leading geographic regions like North America and Europe will also boost the growth rate.
According to the latest forecasting reports, the facility management market is expected to grow at a CAGR of over 12% from 2014. At the projected compound annual growth rate, the industry is set to become worth $43.69 billion by 2019, which is currently set at $24.65 billion in 2014. Apart from the early trends of traction in the manufacturing sector, the market is set to witness growing trends in the public sector. While North America and Europe are expected to dominate the revenue channels in the industry, Asia Pacific and Middle East and Africa are set to witness enormous opportunities of growth, during the forecasting period.