The heart of every organization, financial analytics answers business specific questions and forecasts financial scenarios of the future. The basic function of finance and accounts departments is to collect the data and reporting value-adding roles with help of business intelligence. Tools and systems available in financial analytics market provide great help in decision-making, strategizing, and demonstrating radical changes in the financial strategies of the enterprises. The global market is expected to maintain healthy growth in terms of revenue and global presence.
Scope of Research in Financial Analytics Industry
The market for financial analytics is categorized into different segments, based on the types of systems, their applications, deployment, and size of the organizations where they are deployed, industrial verticals, and demand within different geographic regions. Following are the details about the sub-segmentation in the industry:
Types: Data integration tools, database management systems, reporting, query, analysis, visualization tools, online analytical processing, consulting and support services, visualization and analytical tools, and others
Applications: Budgetary management, asset and liability management, payable management, general ledger management, profitability management, compliance management, risk, and governance management, and other types of applications
Organizations: Small and medium organizations and large enterprises through on-demand and on-premise deployment
Verticals: BFSI, healthcare, life sciences, retail, consumer goods, manufacturing, logistics, transportation, government, information technology and telecommunication, public sector, hospitality, travel, tourism, media, energy, utilities, and various other business verticals
Geography: LA (Latin America), NA (North America), APAC (Asia Pacific), EU (Europe), and MEA (Middle East and Africa)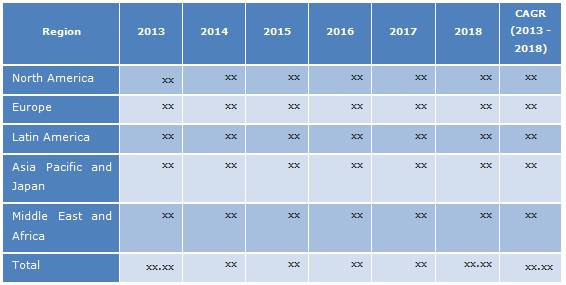 Forecasting Reports
Major industry players have huge plans of expansion across emerging markets of Asia Pacific and Latin America, which is a vital sign for the global financial analytics market. Experts suggest that rising deployment and demand for automation of different accounting and financial activities are driving the global market. The present day dynamic environment in the industry is vital for the future prospects. Businesses in the industry are aiming at steady development in terms of introduction to advanced technologies, deployment across newer industrial verticals, and demand from emerging markets.
According to the market research reports, market for  financial analytics is expected to grow at a projected CAGR of over 12% from 2013 to 2018. At the estimated CAGR, the market is anticipated to grow from $3.62 billion in 2013 and grow past $6.65 billion in 2018. Deployment of predictive models and graphical representation are also expected to drive the analytics market for financial services and accounting.