Management of transportation fleets like vans, cars, trucks, rail cars and ships belonging to a business is vital. Fleet management takes care of organization and security of these transportation fleets and allows the companies to rely upon their functionality without worrying about risks in productivity and connectivity. The fleet management market is gaining great momentum with rising demand for transportation of materials as well as manpower. This is also giving rise to competition in the industry. The result of all these is reflecting on the current market growth rate, which is relatively impressive considering the rapid adoption and evolving technology in the market.
Market Trends in Fleet Management Industry
Rising demand for transportation is the strongest driver for the industry, which gives rise to competitiveness in the industry. Hike in fuel prices are changing the market conditions, with the fleet owners wanting to improve efficiency and operational quality of their businesses. As a result, technology within the fleet management market is changing at a rapid pace. Amidst these changes, introduction to smart technologies is proving to be a strong driver for the industry. Advanced techniques to smoothen the traffic operations, safety and congestion/flow of traffic are creating greater business opportunities in the market. Industrial growth in the developing regions of the world, especially Asia Pacific, Middle East, Africa and Latin America are also attributed to be a reason for this healthy growth in the industry.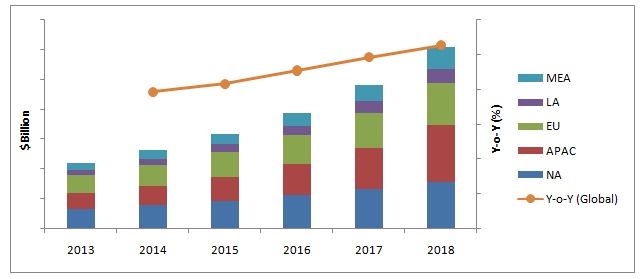 Future Prospects in Fleet Management Market
Smarter ways of transportation and fleet management are driving the global market at a healthy rate. According to the market research reports, the industry is poised to grow at a CAGR of over 22% during the forecasting period of next four to five years. According to these estimates, from 2013, the market is expected to reach past $30.45 billion by 2018. In 2013, fleet management industry was worth $10.91 billion in 2013. CO2 emission control norms, rising competition, rise in the number of service providers and innovative technologies are some of the driving factors creating better business opportunities in the industry. Influx of demand and potential competition are expected to create strong growth in the market. Geographically, Asia Pacific is expected to maintain strong growth.
Rising government endeavors about CO2 emission reforms, integration of GPS tracking fixtures and industrial growth are estimated to be the strongest drivers for the global market. As a result, the industry is poised to witness overall security in terms of revenue, innovation and implementation of advanced technologies across the world.