There is a strong competition for the currently available, silicon based flash memory. Different limitations of the current memory formats, including fast switching speed, long-term data retention, and write-cycle endurance need strong resolve. In this condition, next generation memory provides strong alternative that shows large improvements in the currently available memories. According to the experts, the next generation memory market is poised to witness impressive growth during the next few years to come. This growth is predominantly driven by the problems with the conventional memory and advancing technologies. Strong commercial development of many new memory technologies are also expected to create potential business opportunities for this industry.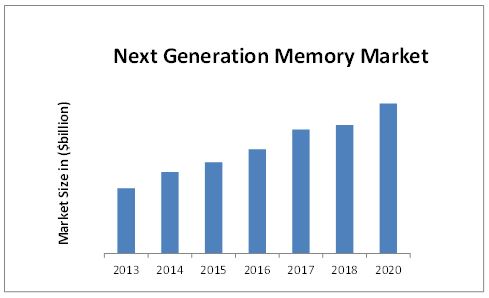 Segmentation in Next-Gen Memory Market
The researchers segment the next generation memory market on the basis of the types of technologies and their applications. Apart from that, they also analyze trends and restraints for the market growth across different geographic regions of the world. Based on the types of technologies, researchers segment this market into volatile and non-volatile memories. The non-volatile memories include FeRAM, PCM, ReRAM, and MRAM. The volatile types of memories are categorized into DRAM and SRAM. Based on the types of applications, this market is categorized into mass storage devices, hard disks, SSDs, consumer electronics, wearable electronics, automotive electronics, embedded MCUs, smart cards, aerospace, defense and industrial applications.
Download PDF Brochure Today!
Market Drivers and Restraints
According to the experts, the next generation memory market is expected to be driven by three major driving factors. These factors include impressive growth in the wearable electronics industry and advancements in the storage technology. Apart from that, strong rise in demand for high capacity memory solutions from the consumer electronics sector are also expected to drive the growth of this market. Major restraining factors for the market include low write endurance rate, stability during extreme environmental conditions and issues with storage density. However, emerging applications, flash memory replacement and demand from wearable and flexible electronics sector are expected to create potential growth opportunities for the market.
As per the latest research reports, the next generation memory market is expected to witness growth at a CAGR of around 38% by 2019. At such exponential growth rate, the market is estimated to become worth $3.7 billion by the end of the year 2020. Despite manufacturing challenges, the market is poised to witness impressive growth opportunities from different industrial segments. Technological advancements and demand from emerging markets are also expected to help this market maintain impressive growth around the world. During the forecasting period, emerging applications are expected to provide potential growth traction for the existing industry players.