Silicon photonics is an emerging technology that uses silicon as the optical medium for the study of photonics. It provides low cost integration of the components at an ultra-large scale. It provides high speed transmission at lower cost, which is influencing the growth in demand for these products around the world. According to the researchers, advancing technologies and growth in the innovative applications are also expected to influence the silicon photonics market. According to them, the rising demand from the emerging markets is also expected to boost the growth pattern in this market on global scale. Rapid rise in demand and advancing technologies across the developed regions on the other hand will create investment opportunities for the potential players.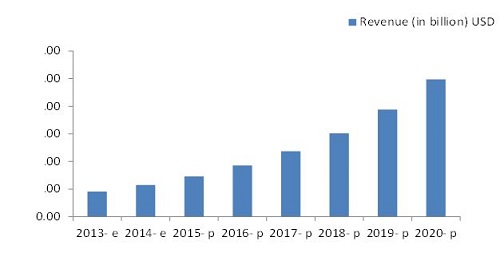 Segmentation in Silicon Photonics Industry
In order to understand the basic growth trends, revenue channels and demand patterns in the market, the researchers segment it on the basis of its various components. The components in the silicon photonics market include various types of products, their applications and demand from different geographic regions. The types of products in the market are categorized into silicon optical modulators, silicon photonic waveguides, wavelength division multiplexer filters, silicon optical interconnects, silicon photo-detectors, silicon LED, and such other products. Basic applications of these products range across the industries like military, consumer electronics, commercial video, data communication, robotics, metrology and sensors, and telecommunication. On the basis of the geographic regions, the researchers segment this market into Europe, North America, Asia Pacific and rest of the world.
Major Market Drivers and Restraints
According to the researchers, the global silicon photonics market is mainly driven by four major driving factors. These factors include reduced power consumption of the traditional optical devices and rising demand to increase the interconnect speed of the data centers. Apart from that, the researchers also expect growth in the bandwidth requirements and data communication applications to be the major driving factors for the market too. As per the researchers, major restraining factors for the market include risk of the thermal effects and limited commercialization in the industry. Inefficient Electroluminescence is also expected to be a major challenge for the growth of this industry. Adaptability to different communication systems are also expected to influence the growth of the market.
As per the latest reports, the global silicon photonics market is expected to grow at a healthy CAGR of over 27% from 2014 to 2020. At the estimated impressive growth rate, the market is poised to become worth $497.53 Million by the end of the year 2020. North America region is expected to dominate the global market on the basis of the total market shares.
Download PDF Brochure Today!