Traction transformers are one of the vital components of various types of rolling stocks and networks. They form an integral part of electric traction systems of these networks, making smooth motion of the electric motors like trains, trams and high-speed trains. These transformers are being used in railway traction for over a century. The mechanism and functions and features of these traction's have evolved with changing technology and preferences of the global industry. Today the global traction transformer market works with two basic types of transformers, which include conventional and electronic traction transformers. Increasing demand for the electric counterparts has given way to competition as well as space to make technological advancements in the industry.
Segmentation in Traction Transformers Industry
Global industry is segmented based on the types of rolling stocks, transformers, voltage networks and geographic demands. Based on the types of traction transformers market was segmented into tap changing, rectifier and tapper transformers. These worked on both AC and DC voltage networks. The types of rolling stocks where traction transformers are deployed include trains, high-speed trains, electric locomotives, electric multiple units and trams. Based on geography, the market was segmented into four regions, namely, North America, Asia Pacific, Europe and rest of the world. Detailed analysis of all these segments is vital, when it comes to understanding the basic factors like market trends and forecasting reports for the industry.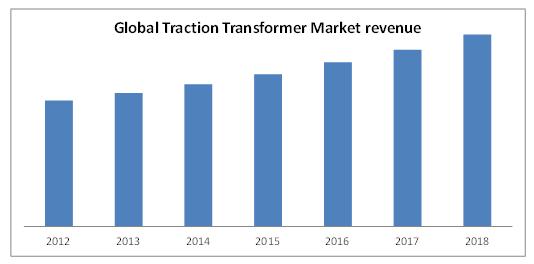 Driving Factors for Traction Transformers Market
Increasing traffic on roads and unstable airlines industry are acting as major drivers for increasing demand for railways, especially in developing countries. Governments from both developing and developed countries are looking for ambitious railway transportation projects, which will include high-speed trains for long route journeys and tramways for domestic, urban and shorter journeys. This increasing demand for railways is a strong driver for global traction transformers market as well. Rapidly developing economies from emerging markets are also triggering growth in demand, production and business opportunities in the industry.
As a result of all this, the industry for traction transformers is anticipated to keep growing at a steady compound annual growth rate. According to the latest market research reports, the market is poised to progress at an estimated CAGR of over 7% within next four to five years to come. In other words, the market will jump on to reach $1.69 billion in 2018, which was poised at $1.17 billion in 2013. Geographically, Europe is expected to dominate the global market. However, along with developed regions like North America, APAC and rest of the world are also expecting to witness remarkable growth during the forecasting period.
Read on more posts from Semiconductor Market: