The global unmanned underwater vehicles (UUV) market will exhibit a robust growth over the next few years. UUVs consist of remotely operated vehicles (ROV) and autonomous underwater vehicles (AUV) segments. ROVs are tethered underwater vehicles that carry power, command, and control signals to feed data back to the operator's console. ROVs support limited navigation capacity, and are used for ocean exploration and port security. ROVs can be divided into eyeball-class ROVs and work-class ROVs. The eyeball-class ROV comprises of a small or mini ROV used in applications such as observation, scientific exploration, inspection, and rescue. The work-class ROV is large and heavy, making it is capable of deploying and lifting large equipment and samples for study. Bottom-crawling ROVs are used for burying cables and trenching. Structurally reliant ROVs are attached to underwater structures.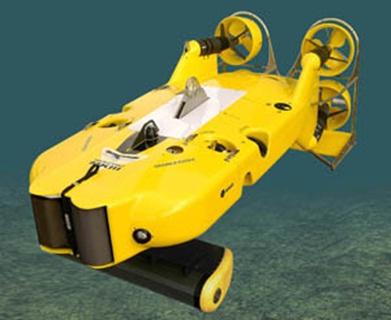 Remotely Operated Vehicle             Source: SAAB
AUVs are torpedo-shaped untethered underwater vehicles; specially programed to collect oceanographic data for an extended period with remote human supervision. AUVs are classified as gliders that are small, medium, and large based on their size. They are untethered robotic devices that are self-controlled and self-piloted by an onboard computer. Hybrid ROVs are an interesting type of ROV, which can be operated as an ROV or AUV with a tether-optional configuration. The increased maneuverability helps navigation to locations where tether would limit its ability. AUV are used in anti-submarine warfare to detect manned submarines. These are operated from submarines, whereas ROVs are operated from surface ships.
Payloads such as underwater sensors, instrumentation, and camera support UUV activities such as seafloor mapping, underwater communication, and underwater imaging and mapping to enhance the UUV capabilities.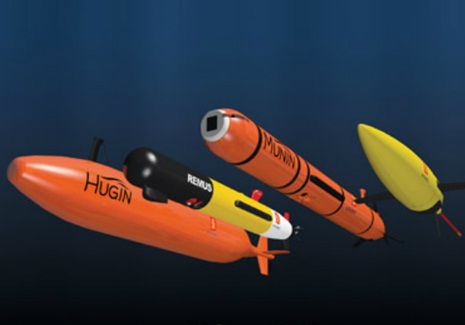 Autonomous Underwater Vehicle         Source: Kongsberg Maritime
UUV are increasingly being used for survey and inspection activities of the ocean globally. Technological advancements and increased capability of ROVs and AUVs over the past few years have significantly impacted the increased use of UUV for various oceanic activities. Applications of AUVs and ROVs include:
Oil and gas:
ROVs typically are involved in activities such as burial and pipeline inspection, offshore construction and repair activities, and ocean mapping for research. There is a huge potential for the contract-based ROV market, which enables oil service providers having technical and operational expertise to use ROVs for oil exploration. AUVs are used for the seabed mapping and the inspection of oilrigs.
Defense:
ROVs are primarily used for deactivating and counter-attacking underwater mines. The security operations including port security, hull inspection, and water rank inspections extensively done using ROVs. Use of ROVs in operations such as mine countermeasures (MCM) and reconnaissance will drive this market in the future. AUVs are extensively used for Intelligence, Surveillance, and Reconnaissance ISR) activities, mine hunting, and MCM activities.
Scientific Research:
AUVs and ROVs have a huge scope in the oceanographic studies. Undersea data gathering, mapping, and aquatic life study use UUV extensively for research.
AUVs and ROVs are extensively used in aquaculture and are expected to show a robust growth, with its benefits of providing cost effective monitoring, rapid deployments, remarkable reliability, and safer operational capabilities. UUVs have a significant potential for inspection and modeling of the aquaculture sites.
Rising demand in offshore drilling activities to serve global energy needs act as an impulse for AUV deployments worldwide. The need for seabed mapping and oceanographic environmental study for safeguarding the environment will be a key factor in the use AUVs for scientific research purposes. The on-board battery endurance constraint has been overcome by the emergence of Air Independent Propulsion (AIP) systems, and miniaturization trends in AUVs is be a driving factor for this market. The technological forecast for UUVs show increase in use of Hybrid ROVs and better AUV miniaturization. Increased efficiency of these drones and the introduction of renewable ocean-thermal energy and AIP technology are expected to augment this market in the future.
The increasing energy demand globally, will significantly drive the oil and gas sector. AUVs are expected to be used tremendously for performing complex tasks such as pipeline inspections, oilrig construction, and maintenance activities. The augmented capabilities of AUVs with technological advancements such as better sonar, inertial navigation systems, and acoustic systems, will enhance deep-water applications. AUVs are extensively used for defense applications such as mine hunting, mine countermeasure operations, and other complex applications at inaccessible depths.
The umbilical cable entanglement and drag affects the ROV's performance greatly. In contrast, telemetric inaccuracies and difficulty in underwater AUV positioning are commonly faced problems in AUV operations. The technological expertise required to perform undersea operations using UUVs will be a constraint for complex oceanic activities.
The Unmanned Underwater Vehicles Market is affected by political, social, technological, and economic factors, which can have a deep impact on this market globally. The global AUV market is dominated by Asia-Pacific, Latin American, and African regions that have high investments in deep sea exploration activities. Growth in North America and Europe will be sluggish compared to these regions. Countries in the Asia-Pacific region will focus on growth, to create a prominent market for themselves, and to direct their region's economies on a higher course in the future. The AUV market is expected to mature over the next five years. Significant investments made by the BRIC countries in the Asia-Pacific region will prove to be emerging markets for the AUV with activities in the scientific research, and oil and gas sectors. The AUV market will show stringent growth in defense operations, though there is a slight decline in the global share of advanced markets. Countries from the Latin American and African regions will prove to be prominent AUV markets. Emerging countries will also be actively involved in military activities for ISR purposes.
Stringent market growth is expected in countries such as Nigeria, Angola, Brazil, Chile, and, New Zealand in the oil and gas sector and countries such as China, Japan, and India in the scientific research sector. There will be a slight decline in the global share of advanced markets owing to defense budget cuts and economic crisis. With increased capabilities and technological advancements in AUVs, the market will see a significant growth in military and energy segments.
Oceaneering International (U.S.), SubSea 7 (U.K.), CNOOC Engineering (China), SAAB (Sweden), and Fugro (Netherlands) are key players in the global ROV market and continue to contribute fundamentally for this market globally. Kongsberg (Norway), Teledyne (U.S.), Bluefin Robotics (U.S.), and Atlas Elektronik (Germany) are market leaders in the AUV market.