The system of video on demand offers users the much required freedom of choice in selecting and watching their favorite videos on demand. Video on demand or VOD and audio and video on demand or AVOD services work with IPTV technologies for personal computers and television sets. This is an interactive technology that enables the customers to view real time programs and download them. Increasing access to IPTV technology and advancements in the VOD modeling are creating demand in the global video on demand market. The industry for VOD is expected to maintain healthy growth rate, which is an exciting sign for the existing business owners in the market. Growing investments and global reach of advanced technology is also encouraging these businesses to expand their businesses on global platform.
Driving Factors for VOD Market
Video on demand is turning out to be an impressive concept, especially for the smaller films that struggled to make it big in multiplexes. Growing penetration of these systems is a reason why these services are now availed by customers from small towns in developed and developing markets. The VOD systems available today are a combination of various old and new contents with advantages. Another factor working in favor of the video on demand market is the evolving technology in the industry. The VOD, AVOD and IPTV technologies are constantly evolving, which is a great sign for the global market. Various established companies in the global market are aiming at business expansions. New players on the other hand are aiming at large investments within developing regions and emerging markets.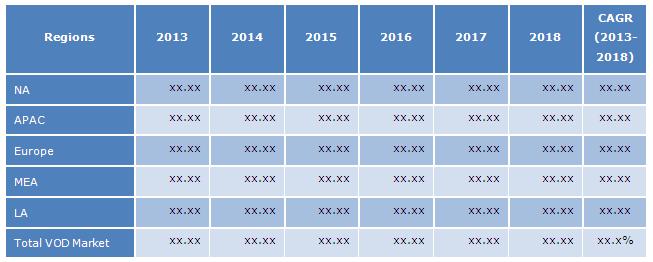 Trends and Forecasting Reports
Video on demand is a flexible technology with strong prospects for growth in the coming future. The technology is designed to suit the needs from different premises including hospitals, hotels, aviation sector, cruise ships, and residential areas. This versatility is driving great business towards video on demand market. Different levels of enterprise applications like employee training, video libraries, and digital storage are also some major factors stirring demand in the industry. Emerging markets are witnessing rise in demand for IPTV and VOD technologies, which is reflecting in the overall growth of the global market.
According to the market research reports, the video on demand market is expected to grow at an estimated CAGR of over 16%. During the forecasting period of next four to five years, the market is anticipated to grow from $21.08 billion in 2013 at the expected CAGR of 16.5% to reach $45.25 billion by the end of 2018. Increasing adoption of VOD technologies across different industrial verticals and developing regions are expected to provide strong growth for the industry in the near future.