The three dimensions or 3D technology is rapidly innovating with each passing day. Constant advancements in this technology have broadened the reach and applications of this technology. 3D sensor is one of the emerging segments of the 3D market. Technological advantages of this technology over the conventional ones are considered to be driving the demand for the global 3D sensor market. Key players in the market are hoping for business expansions across the world. Major opportunities for investment, mergers and expansions are expected to drive the business in this industry. According to the researchers, advancing technology and innovative applications are expected to be the key to success for this market.
5 Major Market Drivers
According to the experts, the global 3D sensor market is strongly driven by the following main driving factors:
Strong demand for the technology in the gaming sector
Rising demand from the consumer electronics and 3D sensor enabled devices sector
Growth in demand for security sensors and surveillance cameras
Growth in demand for smartphones, tablet PCs and notebooks
Changing consumer perspective towards wearable devices
Despite these driving factors, researchers are anticipating the global market to be hindered by several factors. These factors include lack of manufacturing excellence, product differentiation, heavy maintenance and refurbishment costs. Issues with the high end devices are also expected to hinder the growth of the market to a certain extent. However, rapid replacement of 2D technology with 3D, convergence of multiple applications into a single product, emergence of retail and media applications and technological advancements are expected to drive the market at impressive rate. Growth of the gesture recognition technology, 3D motion detection, indoor navigation and graphene based sensors are expected to drive the market at an impressive CAGR.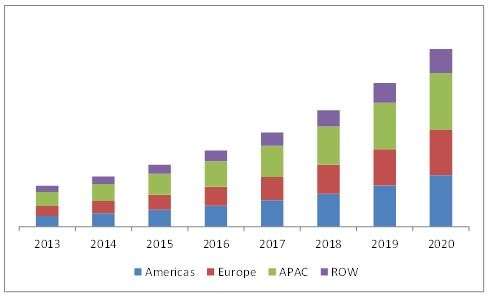 What to Expect?
In order to understand the current trends and growth prospects in the market, researchers segment the 3D sensor market into different segments. These segments are based on the types of technologies, products, their applications and demand across different parts of the world. Key technologies in the market include stereo camera, ultrasound, leap, TOF and structured light. Basic products include medical, media and entertainment, consumer electronics, 3D market, automotive and consumer electronics. As per the analysis of these segments, researchers expect impressive growth of the overall market.
According to the latest analysis, the 3D sensor market is expected to maintain a healthy CAGR of over 23% from 2014 to 2020. As per the recent findings, researchers expect the market to reach past $3,438.25 million by the end of the year 2020. The Asia Pacific region is expected to witness impressive growth with majority of industry share in terms of growth in demand in an ecosystem.