Constant innovations in the 3D technology are helping the market to come up with varied applications. 3D sensor is emerging as one of the most vibrant sectors of this industry. Advancing technology and wide range of use for this market is driving the global 3D sensors market. Growing demand from various industries and high surge in the global marketplace has increased its reach as far as the global presence is concerned. The high growth pace is considered to be a vital sign for the existing businesses in the industry. The existing businesses in this market are concentrating on expanding their production and creating better awareness about the technology across different emerging sections of the world.
Drivers for 3D Sensor Market
The global sensor industry is witnessing revolution with the rise of the 3D technology. Growing applications and technological advantages over the traditional methods are the major driving factors for the rise in demand for these sensors. Strong demand from the global consumer electronics sector is considered as the major driving factor for this industry. other vital factor driving the market 3D sensors market include rising demand for wearable devices, wireless and smart devices like smartphones, laptops, and tablets, rising demand for 3D technology in gaming consoles and wireless devices and so on. Growing demand for security and surveillance cameras is also a significant factor driving the demand for 3D sensors. Growth in applications in the emerging industries like media and retail are also expected to create strong business opportunities.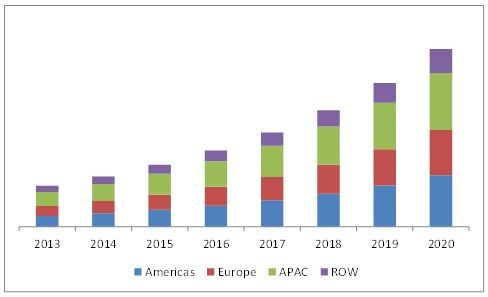 Segments
The global 3D sensors market is segmented on the basis of the types of technologies, applications, products, and geographic regions. Following are the details of the sub-segments in the industry:
Products: Automotive, consumer electronics, 3D robots, media and entertainment, etc.
Technologies: Ultrasound, leap, TOF, structured light, stereo light
Applications: consumer electronics, automotive, medical and other industry vertical based applications
Geography: Asia Pacific, Europe, America and rest of the world
Forecasts
Analysis of the segments and drivers for the 3D sensors market explain that the industry is expected to grow at a CAGR of over 23% from 2014 to 2020. During the span of over five to six years, the market is estimated to reach $3,438.25 Million by the end of the year 2020. The healthy and consistent rise of this industry is strongly attributed to the growth in demand for graphene based sensors, gesture recognition technology and use of accelerometers in indoor navigation for motion detection. New industrial applications and growing demand from emerging markets are also expected to create rise in demand for the industry.
For more detailed Information click here