Composite materials have been part of automotive industry for a long time. However, with the advancement of technology and demand for increased fuel efficiency with decreased tail-pipe emissions has boosted the demand for lightweight materials. Composite materials have considerable potential to increase vehicle efficiency, as it takes less energy to accelerate a lighter object than heavier one. The growth in the composite materials industry has been on a constant rise, given the changing emission norms across the globe along with increasing vehicle production. Manufacturers of composite materials are coming with new and advanced manufacturing process to make improved composite materials to meet rigorous standards.
The composite materials market size is projected to grow at a promising CAGR of 14.02% during the forecast period, to reach USD 84.92 Billion by 2020.
North America: highest growing market
The North American market includes the U.S., Canada, and Mexico, and is dominated by domestic OEMs such as Ford (U.S.), General Motors (U.S.), and Fiat-Chrysler Automotive (U.S.), along with established European and Japanese OEMs. Recent trend in the North American industry has indicated an increase in domestic demand, which has led to rise in vehicle production levels. The North American automotive industry is poised for growth and profitability, driven by restructuring, and increasing automotive production. This is mainly as the North American region possesses high technological prowess, and the buyers in the region are open to new ideas as compared to the end-users in Asia-Oceania region, who are more focused towards buying cost-effective vehicle with basic technologies. Japan and South Korea are exceptions, as these also have a highly advanced automobile market.
Stringent fuel efficiency and emission norms, namely, the EPA and Euro standards, have fuelled the demand for weight reduction across all vehicle applications to improve its structure and fuel efficiency with reduced emissions. Suppliers are, therefore, focusing on developing cost-effective and composite automotive solutions. Therefore, the market for these lightweight materials in the North American region is growing at a positive rate and is estimated to grow at the highest level during the forecast period.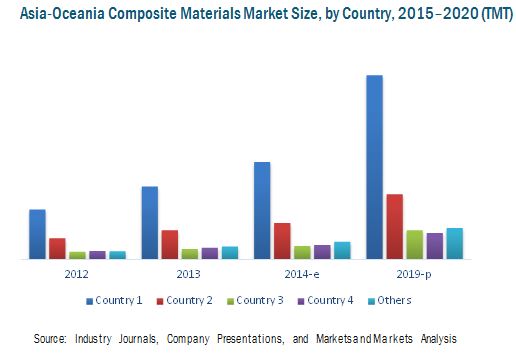 polymer matrix composites: largest market
Polymer Matrix Composites (PMC) is the most commonly used composite material in automotive applications. These have widespread application in automotive industry; however, they typically involve components used more for cosmetic purposes than structural performance. Moreover, the densities of polymers are usually very low; therefore, manufacturing cost of PMC is substantially lower than that of Metal Matrix Composites (MMC) and Ceramic Matrix Composites (CMC). PMC consist of three types of major composite materials, namely, carbon fiber reinforced plastic (CFRP), glass fiber reinforced plastic (GFRP), and natural fiber reinforced plastic (NFRP). Carbon fiber is presently the most prominent lightweight material in automotive industry, due to its high potential for weight reduction in certain applications. BMW and Daimler have already developed working relationships with material providers such as SGL Carbon Group and Toray Industries Ltd. respectively, to jointly develop processes and techniques to bring vehicles with carbon fiber to the market. The main applications where these composites are being used include structural, powertrain, exterior, and interior.
Rolling stock & locomotive composite materials market: asia-oceania is the largest market
The Asia-Oceania region is the largest market for rolling stock & locomotive composite materials, followed by North America and Europe. The use of composite materials has become an important feature in railway design engineering. This is due to the increase in demand of lightweight rolling stock, as they are required in the high speed trains, where light weight results in higher speed. Energy required by the train for per passenger distance travelled is also reduced with lighter trains. Stronger, more durable, and easy to clean materials translate into lower maintenance cost over the whole life span of a train.
Key global composite materials manufacturers include Toray Industries Inc. (Japan), Cytec Industries Inc. (the U.S.), Teijin Ltd. (Japan), SGL Carbon SE (Germany), and TenCate N.V. (the Netherlands). Though these companies are major players in the industry, the demand for the composite materials is highly dependent on the rise in vehicle production and changing emission norms imposed by governments across different countries.