Provision of homeland security is the prime responsibility of the governments and international agencies. Systems like critical infrastructure protection (CIP) help them achieve this vital agenda of the safety and wellbeing of the people and national treasures. CIP systems assist countries to counter the threats like natural disasters, terrorist attacks, cyber intrusions and epidemics. Naturally, decision-making bodies from across the globe are inclined towards using the critical infrastructure protection systems and policies. Growing threats to the natural treasure, rising economic conditions and technological advancements are driving the critical infrastructure market.
Critical Infrastructure Protection Market Synopsis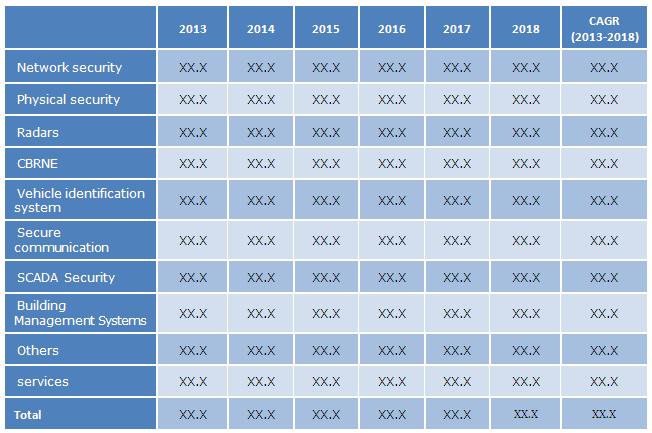 Numerous manmade and natural ordeals always keep the authorities on the toes to protect the natural assets, which includes the citizen of that country. Several vital natural assets include historic monuments, transportation services, public places and monuments, telecommunication services, etc. Protecting these assets assures healthy and smooth functioning and rapid growth of the society and economy of a country. All these reasons make critical infrastructure protection market essential for all the developed and developing countries.
Segmentation
Basic segmentation in the industry is based on the types of security technologies, CIP securities, information technology managed security and services, applications across various industrial verticals and demand patterns across various industrial verticals. Based on the CIP security and services, the market is segmented into network security and physical security.
Network security: Physical security, CBRNE, Radars, Secure communication, Vehicle identification, Building management and SCADA
Physical security: Access control, ID management systems and video surveillance
Based on information technology managed security and services, the industry is segmented into:
Managed services
Design and consulting
Integration
Maintenance
Support
Based on the types of business verticals, the industry is segmented into transportation systems, energy and power, enterprise and sensitive infrastructure. Industrial verticals are further classified based on the applications. As far as geography is concerned, North America, Asia Pacific, Latin America, Japan, Europe and Middle East and Africa are the basic segments.
Forecasting
Based on the detailed analysis of all the aforementioned segments, the industry is expected to grow at a steady rate. Critical infrastructure protection market is poised to grow at an estimated CAGR of over 10 from 2013 to 2018. At this rate, the market revenue will become worth $105.95 billion by 2018. As of 2013, the revenue was $63.76 billion. Growing threat of terrorist attacks and increased terrorist activities in various parts of the world are driving the revenue channels in the CIP markets. Both developed as well as developing countries are securing their national treasures on priority basis, which is creating better business and job opportunities in the market for critical infrastructure protection systems.