Data center is considered as the core of information technology. It needs to be run smoothly in order to keep the enterprise and its functions on track. Strong rise in demand in the data center industry is mainly driven by the growing rate of adoption and advancements in this technology. According to the experts, the prime reason for the tremendous growth in the global data center automation market is the growing demand for virtual data houses and exponential growth in data traffic across the industries. As a result, the key players in the market are expecting positive growth in the industry during the coming years. According to the researchers, new markets like Asia Pacific, Latin America and other emerging markets are some of the most positive growth places poised to create business opportunities in the market.
Scope of Research for the Market – Segmentation
The global data center automation market is majorly divided on the basis of the solutions and services available in the market. Apart from that, researchers also analyze other key components of the market, which include the end-users, industry verticals and geographic segments of the market. The types of solutions are segmented into storage, server and network automation. Service segment in the market is categorized into installation and support services and consulting services. Major end-users in the market include colocation and cloud service providers and large enterprises. Industry verticals with most applications of data center automation include BFSI, manufacturing, healthcare, retail, media, entertainment, telecom and information technology and others.
Drivers & Restraints for the Market
According to the researchers, the global data center automation market is strongly driven by three major drivers, which are as follows:
Strong demand for the services like resource pooling
Technological innovations in memory, processors and power
Manual and custom networking configuration options
As a result, despite the restraints like interoperability issues, the market is set to witness strong growth in the coming years. Hybrid clouds and heterogeneous environments are expected to create major opportunities for the existing players and potential investors in this market. This is considered to be a vital sign of growth for the market on global scale.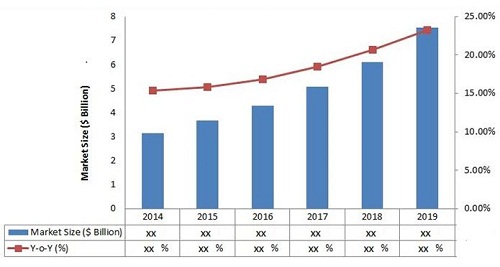 What to Expect?
Careful analysis of the trends, drivers, segments, restraints and other major components of the market, researchers are hoping it to maintain strong CAGR. As per the latest reports, the data center automation market is poised to witness a healthy CAGR of over 18% from 2014, which is set to make this market worth more than $7.53 billion by the end of the year 2019. As of 2014, the market is estimated to be worth $3.16 billion. North America is expected to dominate the global market. However, Asia Pacific and other developing regions are estimated to witness healthy growth rate during the next few years to come.