District cooling refers to centralized production as well as distribution of energy. This system delivers chilled water though underground insulated pipelines. It majorly provides the cooling energy to industrial, commercial and residential buildings. The basic purpose of these systems is to cool the indoor air at the district level. Rising rate of adoption and technological advancements on regular basis is expected to help the district cooling market to witness healthy growth in the next few years. The industry is also witnessing rise in the business opportunities with strong advantages of these systems on a large scale application.
Scope of Research in District Cooling Industry
In order to understand the overall growth and challenges for the market, researchers segment it on the basis of its basic components. The major components in the district cooling market are categorized into the types of applications and the demand for the global industry across different industrial verticals. The basic types of applications in the market are divided into industrial, commercial, residential, and other such application areas. Based on geographic regions, the market is divided into four major segments, which include Middle East and Africa, Asia Pacific, Europe and the Americas.
Analysis of all the aforementioned segments suggests that the global district cooling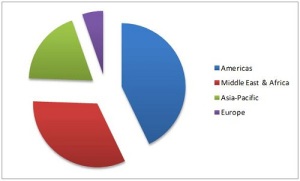 market is expecting a steady growth in the next few years. This growth trend is driven by the major advantages of these systems. High efficiency, less water requirements, reliability, convenience and cost of these products are some of the major drivers for the global market. Growing demand from different parts of the world is also creating strong traction in the industry. Emerging regions are estimated to witness growth at a steady rate, during the next few years.
According to the researchers, non-synchronized decisions about developments, high upfront installation costs and installation issues, especially with the old buildings are expected to be the major restraining factors for the market. Despite these restraints, advancements in the technologies like space saving and such others are expected to help the market maintain steady rise. As per the latest reports, the global district cooling market is projected to maintain a steady CAGR of over 10%.
At the estimated compound annual growth rate, the market is projected to reach past $29.0 billion by the end of the forecasting period, in the year 2019. During the next few years, developed regions like North America are Europe is expected to hold largest market share. However, emerging regions are also expected to record impressive growth in terms of CAGR.