Elevators are regarded as the best source of vertical transport for years together. Elevator security is the strongest reason for all the innovation and technological advancements that take place in this industry. Rising number of high rising buildings and growing number of their users is a strong reason for growing demand for advanced and highly efficient lifts. Rise in their utilization also gives way to issues like energy efficiency, passenger capacity and safety of transport. All these are the major driving factors for global smart elevator market. Lift manufacturers are providing keep attention to technological advancements, which has resulted in the present day smart lifts that are emerging as the most preferred option in public and residential edifices.
Overview of Smart Elevator Market from 2013 to 2018
As far as segmentation is concerned, the types of security drills and access control systems of the elevators are the strongest segments in the market. Apart from that, factors like modernization, applications of smart lifts, geographic demands and automation of systems are also taken into consideration. Study of all these segments provide crucial information about the current market trends, projected prospects and challenges and opportunities facing smart elevator market. Following are the details of the sub-segmentation in the industry: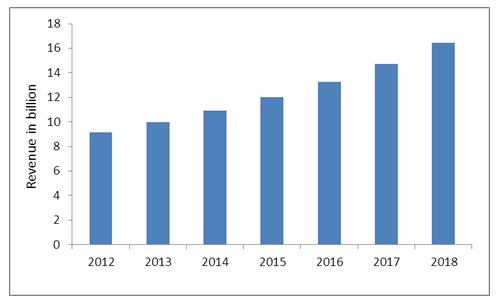 Products: Security, automation and access control market. Basic segments in elevator access control market are sub-segmented into biometric based, car based, touch based and keypad based market. Service market is further sub-segmented into intruder alarm, surveillance systems and visitor management systems. Automation systems on the other hand are segmented into motors and drives, sensors and controllers and business management systems. Elevator modernization segment is sub-segmented into electronic equipment, landing systems and operating panels.
Applications: Based on applications, smart elevator market is segmented into different buildings, namely, commercial, residential, institutional and others. These segments are further divided based on the types of particular buildings. Explosive growth in global construction and buildings sector is a strong driver for the industry, which is expected to reciprocate with sharp growth in terms of compound annual growth rate.
Drivers: Increasing demand of skyscrapers, technological advancements in the market and increasing number of replacement of the older elevator systems are the strongest drivers for global smart elevators market. Increasing construction activities performed in emerging markets like Asia Pacific, Middle East and Africa and Latin America are also considered as the driving factors for the global industry. Required demand for enhanced security, energy efficiency, automation and modernization also play pivotal role in the bright future of this industry.
Forecasting: Detailed analysis of all the aforementioned factors, researchers are expecting healthy growth in terms of compound annual growth rate. According to the research reports, smart elevator market is expected to grow at a CAGR of over 12% within next four to five years. This is a vital sign for advanced investments and existing businesses aiming at business advancements in newer geographic regions of the market. Although North America is currently dominating the industry, it is set to be taken over by emerging regions like Asia Pacific and Latin America. Advancements in the semiconductor industry and IT sector are also influencing the industry worldwide.