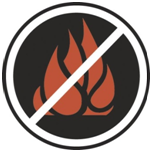 Enhancing fire resistance capacity of wood and electrical products is the basic job of flame-retardants. These chemicals control and reduce ignitibility, flame presence, flame spread and heat release. Owing to all these features, flame retardant chemicals are on higher demand across various industries. Growing fire safety concerns and increasing global demand are the biggest drivers for the flame retardant chemicals market on global platform. The market is witnessing tremendous growth since the past decade, which is expected to increase in the years to come.
Market Drivers
Flame-retardants are chemicals or additive materials that inhibit flame and control the degree of damage caused by burning and fire incidents. These products usually contain non-inflammable chemicals such as phosphorus, halogen, hydroxide metallic compounds and nitrogen compounds. These chemicals are applied on plastic and rubber. These flame resistant rubber and plastics are then utilized to avoid damage to a greater degree. Growing demand for these products is an advantage for the flame retardant chemicals market, which is flourishing on global platform.
Market Segments
Deeper understanding about the segmentation, drivers and challenges of this market will help businesses determine their future marketing strategies and sales plans. Segmentation in the fire retardant chemicals market is based on product types and their applications in various industry verticals. Geographical statistics in the demand, supply and production of these chemicals also plays a vital role in the revenue of the global market.
Aluminum trihydrate, antimony oxides, brominated, chlorinated and organophosphorus are the most popular flame-retardant chemicals available on the market. These chemicals are popularly used in segments and verticals defined by end-user requirements. Automotive and transportation, building and construction industry, electrical and electronics, wire and cable, textile and other applications are the common industry verticals that make wide use of these chemicals.
Trends and Forecasting
Depending on the regional demands, Asia Pacific is leading the global market for chemicals with fire-retardant properties. It is the fastest growing region with increasing demands and production for these products. According to the latest trends, Asia Pacific region accounts for around 48.5% of the global volume consumption. According to the forecasting reports for the market that provide estimates from 2012 to 2017, state that the market is expected to increase at the CAGR of 6.9%. At this rate, the market will increase from $4,792.5 million (in 2011) to $7,131.9 million (2017). This estimated CAGR is expected to remain constant from 2012 to 2017, which is a major boost for the businesses.
Following is the figure that illustrates the market trends: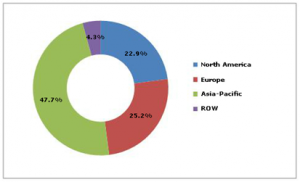 (Image Source: http://www.marketsandmarkets.com/Market-Reports/flame-retardant-chemicals-market-686.html)
Rising awareness and government safety regulations are causing rising production and consumption of these chemicals, which assures that this industry has a bright future. Europe and North America are both equally competitive regions with around 48% of market share.
Contact:
Mr. Rohan
North – Dominion Plaza,
17304 Preston Road,
Suite 800, Dallas, TX 75252
Tel: +1-888-6006-441
Email: sales@marketsandmarkets.com