Growing demand for cost effective electronic products are helping the technological advancements in global electronics market. This demand is also considered to be the strongest driver for the increasing demand for functional printing. It is a production process of functional inks that can be deposited in a selective and controlled pattern upon various kinds of materials. Functional printing is ranked high in terms of creating futuristic, high volume electronic production. The best thing about this technology is that it can be utilized with conventional printing technologies as well. As a result, functional printing market is making rapid growth in terms of compound annual growth rate and global demand.
Functional Printing Market Synopsis
Advancing technology in functional printing is a great sign for the global functional printing market. It also opens gates of opportunities for global printing technology. Traditional printers like inkjet, flexography, screen and gravure can also be modified based on this technology, which is highly capable of providing printing solutions for an array of substrates with help of functional inks. As of now, the printing market for functional inks is dominated by screen printing techniques. These techniques are cost effective, reliable and have larger applications in the production of RFID sensors and antennas. Technological sound techniques of functional printing market are creating greater business opportunities across different walks of life.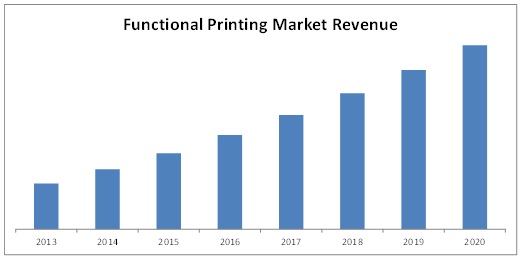 Drivers and Segments
Numerous types of materials are being discovered for specified use as substrates and inks for different printed products. These innovative products are vital for the growth in terms of demand and revenue for the functional printing market. Rapid innovations in terms of products to use as inks are facilitating rapid adoption of printed electronics across different industrial verticals. Global functional printing market is segmented based on the types of materials, technologies, applications, coating and demand across different geographic regions.
Technology: Screen printing, inkjet, flexology, gravure and others
Substrates and Inks: Paper, plastic, glass substrates and dielectric, conductive and graphene ink
Applications: Batteries, sensors, displays, lighting, RFID tags, medical, photovoltaic, etc.
Geography: Europe, North America, Asia Pacific and rest of the world
Forecasting Reports
According to the market research reports, functional printing market is estimated to make progress at an anticipated CAGR of over 22% from 2013 to 2020. At the end of the forecasting period, the market is estimated to grow on to become worth more than $13.79 billion by the end of 2020. Screen printing segment is expected to dominate the global industry. as of 2013, the market is dominated by North America, which is leading the global industry in market share, demands and innovative technologies. Developing regions like Asia Pacific and rest of the world are also expected to perform exceptionally well during the forecasting period.