Gesture recognition is one of the most innovative concepts in computer science, which deals with the goal of interpreting human gestures. This process is carried out through mathematical algorithms. One of the most groundbreaking technologies, gesture recognition and touchless sensing has numerous applications across different industrial verticals. Currently, the global gesture recognition market is strongly driven by the rising demand, increasing adoption, cost effective applications, and technological advancements. As a result, businesses in the industry are anticipating stability and profit through global expansions.
Key Takeaways for Gesture Recognition and Touchless Sensing
Although touchless sensing technology has been around for a few years, the market for gesture recognition technology is evolving at a rapid pace. Along with the concept of intelligent washrooms with touchless sanitary ware, these technologies have major applications across the industries. Rising global demand for intelligent washrooms, increasing adoption within the commercial, public, and residential segments are also major reasons why the industry has managed to make such healthy growth.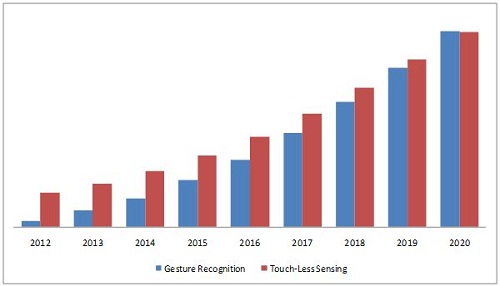 Both touchless sensing and gesture recognition market are segmented on the basis of the types of technologies, products, their applications, and dominant geographic regions. Types of touchless biometrics include iris, voice, face, touchless fingerprint, and so on. Touchless sanitary segment on the other hand is categorized into major product segments including trash cans, faucets, hand dryers, soap dispensers, flushes, and paper towel dispensers.
The global touchless sensing and gesture recognition market is anticipated to grow at impressive rate throughout the forecasting period, from 2013 to 2020. According to the research, the industries are expected to become worth $22 billion by the end of next six years. Gesture recognition market is anticipated to grow at an impressive CAGR of over 24% and reach $11.0 billion by the end of the year 2020. Touchless sanitation market on the other hand is expected to grow at a CAGR of over 33% from 2013 to 2020.
Research reports claim that Asia Pacific region is anticipated to dominate the global gesture recognition market. Asia Pacific will be followed by Middle East and Africa. Consumer electronics applications have currently captured over 99% of the overall gesture recognition industry. Evolving technology and rapid rate of adoption are claimed to be the strongest drivers for the market. Healthcare industry is also anticipated to record healthy growth during the forecasting period.
Rapid rise in the standard of living increased spending capacity and awareness towards healthcare and sanitization are helping the gesture recognition market to grow within the emerging markets like Asia Pacific and Middle East. Projected commercialization of the automotive industry will also create potential business opportunities for the existing and potential investors within the market.
Download Sample PDF Today!