Gesture Recognition (GR) has been a technology which would help humans to interact with machines without touching it. But things are looking bright for the futuristic interface, the image sensors incorporated in many devices which is making the gesture recognition market to grow at higher rate with more potential. The first gesture recognition was witnessed back in 1997 when IBM demonstrated something it called natural computing – which was a combination of speech recognition and gesture recognition software; where a giant globe spun on a screen while a researcher waved his arms to move it and shrink it which has inspired the futuristic market of gesture recognition & touch-less sensing technology.
Over the past few years, gesture recognition has made its debut in entertainment and gaming markets. The first mover in gesture recognition was presented by the Microsoft's Kinect game controller which used a stereoscopic 2D image sensor which brought this GR technology to all the electronic devices in consumer's life. Now, gesture recognition is becoming a commonplace technology, enabling humans and machines to interface more easily in the home, automobile, and at work. Gesture recognition has long been researched with 2D vision, but with the advent of 3D sensor technology, its applications are now more diverse, spanning a variety of markets. One of the major game changing 3D image sensors in GR technology is the Time-of-Flight (ToF) which has given the capability to tap the other opportunistic markets.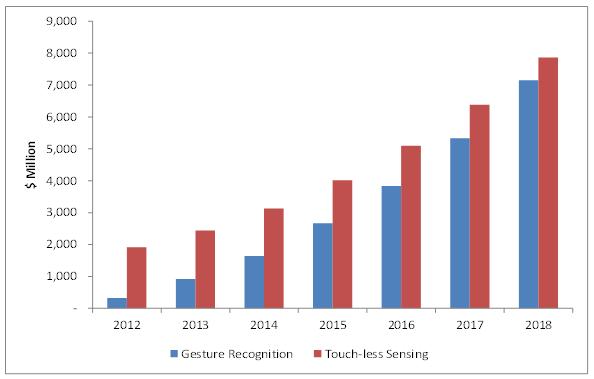 One tricky area with gesture recognition is the precision; if you've got finger-width resolution, what does that let you do? Could you put a virtual keyboard on a screen and type easily? The reason we are moving from hand detection to finger detection is to increase the ease of use. In Smart TVs with other technology, is that you have to perform pretty big movement with your arm at shoulder level, which is not convenient for the user. And it's very hard to be precise. So using the ToF image sensors worked easily at finger-level tracking. This gave the user more control over everything by just moving your wrist.
MarketsandMarkets analysis shows that GR technology and touch-less sensing source lies at the center of the consumer electronics, which is driving the overall market. In the current market, 3D image sensors are exceptional due to its cost but the accuracy level is very high which unveils many astonishing features.
Time-of-Flight systems are not scanners, as they do not measure point to point. Instead, ToF systems recognize the entire scene simultaneously to determine the 3D range image. With the measured coordinates of an object, a 3D image can be generated and used in systems such as device control in areas like manufacturing, robotics, medical technologies and digital photography. These systems require a significant amount of processing, and embedded systems have only recently provided the amount of processing performance and bandwidth needed by the system.
Due to seamless balance of cost and performance, ToF systems are optimal for device control in areas like manufacturing and consumer electronics devices needing a fast response time. TOF systems typically have low software complexity. However, these systems integrate expensive illumination parts, such as LEDs and laser diodes, as well as costly high-speed interface-related parts, such as fast ADC, fast serial/parallel interface and fast PWM drivers, that increase material costs which forms the 3D sensor technologies.
Certainly, Gesture Recognition is a revolutionary technology that is going to change the future electronics market dimensions. MarketsandMarkets anticipates that due to their easy interface, high accuracy, portable, and faster; GR and touch-less sensing technology will bring in a technological shift in the consumer industry segments such as Smart TV industry, smartphone and tablet industry, and the likes. Despite several challenges, 3D vision and gesture tracking are getting attention and gaining traction in the market. GR technology will have complete solution, including a range of processors, tools and comprehensive software, to enable customers to quickly and easily bring leading 3D vision products to market. Although the cost is going to be a prime concern for the initial market penetration, the quality of output would be a game changer for the specialized applications wherein the accuracy and detailing supersedes the cost.
For more detailed information click here