Information technology has touched all the possible aspects of human life. Changes in the global social, economical, political and psychological scenarios are also changing the way information technology is utilized in the day-to-day lives. Since past few years, governments from around the world are facing a serious problem of storing, sharing and securing their data. This problem is bigger than it seems and is capable of influencing the economies of the respective countries. It is also reason why the governments from these countries are now resorting with cloud computing. This could be cited as the strongest driver for the growing global government cloud market.
Concept of Government Cloud
Government cloud is a relatively new concept, which is based on the use of cloud computing as a service exclusive for governmental purpose. The "as a service" solutions offered by cloud computing technology are working as a revolution for the global governments, federal enterprises and their internal and external bodies. Government cloud market is growing at a rapid rate, which is a vital sign for the global information technology industry. According to the experts, the government cloud industry largely depends on the innovation and advancements in the IT industry, which increases the business opportunities and revenue channels in both the markets.
Categorization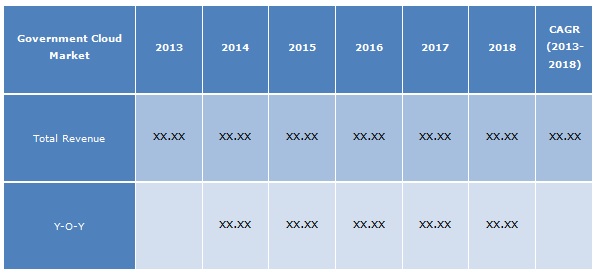 Government cloud market is largely classified based on the types of government agencies, deployment models, applications, delivery modes and geographical regions. Based on the demand patterns across various geographic regions, the industry is segmented into Europe, North America, Latin America, Asia Pacific and Middle East & Africa. Based on the types of agencies, the industry is segmented into federal cloud, state government cloud, local cloud and military and defense cloud. Models of deployment for the cloud industry include private, public hybrid and community cloud. On the basis of delivery modes, the industry is divided into software as a service (SaaS), infrastructure as a service (IaaS) and platform as a service (PaaS). Applications of government cloud products include:
Analytics
Business operations
Cloud gaming
Collaborations
Content management
Disaster recovery and data backup
Health and safety
Mobility
Security and compliance
Server and storage
Forecasting Reports Until 2018
Based on detailed analysis of all the segments, drivers, restraints and current trends in government cloud market; researchers expect the industry to grow at a CAGR of over 45%. This trend is expected to continue from 2013 to 2018. Within the next four to five years, the cloud service for government industry is expected to become worth $18.48 billion by 2018. As of 2013, the market was worth $2.87 billion. Based on the forecasting reports, both developed and developing markets are expected to grow at an impressive compound annual growth rate. Increasing interest from major governments across the world, growing number of public organizations and technological advancements in the cloud computing services are the driving factors for the industry.