RTLS is known as real time location system that offers real time tracking of assets and personnel that tagged with active RFID tags with the help of different technologies like Wi-Fi, RF signals, Infrared, Ultra Wide Band (UWB) and other wireless technologies. The tracing of equipments and devices is a major concern for many enterprises in industries like healthcare, industrial manufacturing, logistics among many others. Many enterprises and customers are implementing RTLS to track their assets and personnel in more efficient way.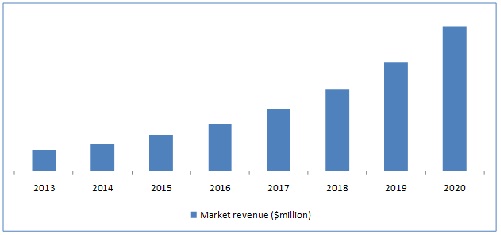 RTLS can be used in many applications like raw materials, high value asset tracking, personnel and staff security and Work in Progress (WIP) goods. The RTLS systems used in many industry verticals like healthcare, logistics & transportation, industrial manufacturing, process industries, retail, and hospitality and many others. Among all verticals healthcare emerging as a highest revenue generator industry for RTLS market. However RTLS is finding its place in all industry verticals due to increasing technological advancements, declining cost of RTLS tags and supportive government initiatives to promote the employment of RTLS worldwide.
Healthcare is major shareholder among all industry verticals in RTLS market because many hospitals all over the world incur losses due to missing equipments and also they purchase 15% to 20% extra equipment for efficient work flow. RTLS helps these enterprises to decrease their expenses by tracking equipments in real time. Many departments in large hospitals like materials management, biomedical and clinical engineering assists in initiating the investments in RTLS solutions. According to the study there is huge opportunity for RTLS to grow in healthcare industry because only 12% to 15% of hospital adopted RTLS technology in U.S. and if we see the worldwide data more than 80% of hospital not yet deployed the RTLS. So there is huge untapped market present in healthcare industry for RTLS.
The RTLS making surge in healthcare industry due to several reasons like standardization of technologies like ISO/IEC Standards, ANSI Standards, ETSI Standards and IEEE Standards among others, decreasing cost of RTLS hardware and software and also due to technological advancements like 'T2' tags of AeroScout (U.S.). The 'T2' are the 'tri modal' ones that come with embedded low frequency RFID, ultrasound, and Wi-Fi compatible technologies. Government also supports healthcare industry to adopt RTLS by different partnership like five year contract between Veteran Affairs (VA, U.S.) and Hewlett-Packard (U.S.), federal funding and other indirect investments for helped in increasing the RTLS deployments, globally in healthcare industry.
For more detailed information click here