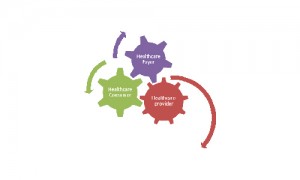 Increasing global trend of digitization has influenced healthcare industry to adapt to the changing times. Reducing the load on paper-based data and increasing shelf life of medical data are the basic yet essential reasons for the growing demand of health information technologies and systems. According to the marketing research experts, global healthcare information technology market is aiming at great success in the next four to five years to come. HCIT is a simple, comprehensive and effective platform for the management of health and medicinal information of various patients at one place. It reduces physical storage space and channels communication and information sharing amongst the concerned people.
Reasons behind Growing HCIT Market
1. Cost Cutting: Increasing pressure on the global industry for excessive cost cutting on healthcare facilities is the biggest pressure point or driving factor for the global healthcare IT market.
2. Increasing Investments: Due to great returns, businesses from across the world are looking for investments in health information technology industry, which is behind the increasing expanse.
3. Rising Demand: Growing aging population, awareness to avoid medical errors, requirement for CPOE adoption, increased risk and incidences of chronic diseases, etc, reasons put pressure on demand and supply.
Apart from these reasons, better governmental support is also a strong reason that drives the global market for healthcare information and technology. Government of United States of America provides financial aid to the industry on global level. Governments in Asian countries are also promoting medical tourism, which influences the demand and consumption in the market. Thanks to all these drivers, the global businesses in the market are expected to rise to the expectations of the owners.
Varied segmentation and increasing application areas of the industry make it even more competitive. The market serves to both clinical and non-clinical information systems. Apart from that, it also provides service to workflow and administration systems. On-premise, web-based and cloud-based are the diverse delivery modes of these systems, which are available in software, hardware and service formats.
Quick Facts and Forecasting Trends
North America region, which comprises of USA and Canada, is the leader of the healthcare IT market on global platform.
The global market is expected to rise at an anticipated CAGR of 7.0%, which will take it to $ 56.7 billion by 2017.
According to the revenue trends in 2012, the health information technology industry was poised at $40.4 billion in 2012.
Provider and payer are the basic segments of the market that are further divided into non-clinical and clinical information systems.
Non-clinical applications: cost accounting, patient billing, payroll, revenue cycle management and others
Clinical applications: hospital, laboratory and pharmacy informatics; hospital informatics include CDSS, CPOE, CVIS, EHR, PACS and RIS
Contact:
Mr. Rohan
North – Dominion Plaza,
17304 Preston Road,
Suite 800, Dallas, TX 75252
Tel: +1-888-6006-441
Email: sales@marketsandmarkets.com