As the name suggests high voltage direct current systems use direct current for large electric transmissions. HVDC systems are commonly used in long-distance transmissions as an inexpensive and highly efficient option. Raging growth in the global power industry has great influence on the demand and applications of high voltage direct current transmission systems. The global HVDC transmission market is set to witness great rise in terms of revenue, technological advancements, their applications and global presence. This is a great sign for the new investors in the industry. Increasing demand for electricity systems is the biggest driver for the industry.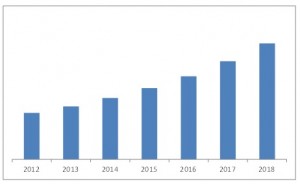 Market Drivers and Business Prospects
The world is progressing at a rapid rate. The constant use of technology needs steady flow of power from different reliable sources. This increased demand is putting added pressure on the existing systems and basic power generation infrastructure. Apart from filling in the basic deficit of demand and supply of energy, the market is also fighting with transmission loss. AC systems are incurring heavy transmission loss, which is not a good sign for the overall progress of the industry. High voltage direct current transmission is a great preposition for these problems. Thanks to the lower rate of transmission losses, capacity of delivering power in bulk amount, asynchronous interconnection and ability to deliver the power for long-distance transmissions are driving the growth in the sectors.
Owing to the tremendous growth in the global market, the HVDC transmission market is expected to grow at a stunning CAGR of 16.97%. According to the experts, high voltage direct current transmission is also one of the strongest initial steps towards generating power form reliable and renewable sources. Growing need for integrated networks worldwide is pushing the global industry towards greater heights. All these factors are contributing towards success for the existing businesses in the market. They are also laying the groundwork for the new entrants and budding investors rearing to explore this market on global scale. Vast segmentation in the market also needs consideration for accurate market trends.
Segmentation and Forecasting Reports
The market is segmented based on different types of components, configurations, applications, technologies, power ratings and geographical demands for HVDC transmission systems. Researchers have studied the market for all the components of the market for the timeframe of 2013 to 2018. Based on these calculations, the market is expected to grow at the CAGR of 16.97% within next four to five years. According to these forecasting reports and the expected compound annual growth rate, the market is estimated to reach USD 9.62 billion by the end of 2018. Growth in the segments like offshore wind farm installation, growing global demands and constant interventions from global governments are driving the HVDC transmission market.