Advanced gadgets, online products and software programs are a proof of the rapid speed at which the technology is developing since past few decades. Technological advancements have taken another interesting twist in the form of in-room entertainment, which has become prime focus of various industrial verticals. In-room entertainment market also has a broad segmentation, which is very different from the traditional living room entertainment devices. Global market has come a long way from a single television to outrageously high-tech entertainment hub. This transformation is pushing the global demands in the market, making way for numerous business opportunities and revenue channels for a long-term future.
Entertainment is now coupled with information technology, making way for infotainment, is served well by various network-based devices. This is the basic concept behind in-room entertainment systems that are available on the market. This innovative concept enables sharing of data, images, videos and other files with other connected devices within the network. These devices include set-top boxes, television sets, computers, home theaters, smart phones, gaming consoles, Blu-ray players and numerous other devices with multimedia technology.
Segmentation in the In-Room Entertainment Systems Industry
The global industry for these systems is diverse with numerous technological differences and advancements. One needs to understand the basic segmentation in this industry before drawing significant conclusions about the market in terms of trends, future growth and business prospects. Basic segmentation in global in-room entertainment system market is based on the types of products, and technologies used for their designing. Apart from these two segments, the industry is also segmented based on geographic locations. All the types of devices mentioned earlier are further segmented based on their features and advanced technologies.
Owing to this fact, the global industry also consists of several micro markets like 3D TVs, LED TVs and smart TVs. All the components of the market have several sub-segments, based on technology and features. Based on technology, in-room entertainment market is segmented based on the types of memory ICs, processors, sensors and wireless chipsets that are used for content sharing and connectivity with various devices. Based on geographical regions, industry is segmented into five segments, namely, North America, Europe, Asia pacific, Middle East-Africa and rest of the world.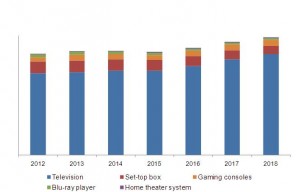 Latest Market Trends and Forecasting Reports from 2013 to 2018
According to the recent studies, the global market for in-room entertainment systems is estimated to grow at an anticipated CAGR of 2.55%. At this growth rate, it is expected to reach past $200 billion by 2018. As of 2013, the market is worth $180 billion. Based on global presence and revenue trends, North America is the most dominating geographical segment in the industry. Television segment still rules in-room entertainment industry, reasons being exclusive features and affordable price range.