Regular pre-performing processing and manufacturing tasks become easier with industrial robotics. Along with their most common applications like welding, picking and painting, these robots have ventured into different other utilities thanks to the technological advancements. With the persistent efforts from inside the industry to increasing global demands, the industrial robotics market has successfully overcome the dull phase of recession not so long ago. Constant growth and modernization of technologies is paying off for the industry, which is set to maintain steady growth in the years to come. This is also a positive sign for the businesses looking to settle into this market.
Segmentation and Business Prospects in Industrial Robotics
Since the launch of its first large scale applications, the industrial robot has come a long way. Today these products come across as a great relief to the global manufacturing sector. The products excel in providing programmable machines that are utilized for high volume production lines. Segmentation in the global industrial robotics market is based on the types of applications, products, and their functions. Based on the geographical demands for these products and their applications, the global industry is divided into five segments, namely, America, Japan, Asia Pacific, Europe and rest of the world (RoW). Following are the details about the sub-segments:
Products: Different products available on the market include cylindrical robots, SCARA robots, articulated robots and Cartesian or gantry robots.
Applications: Based on the types of industrial verticals, the products in this market are deployed into electrical and electronics, automotive, food and beverage, heavy materials, heavy metals, optics and precision, rubber and plastic.
Functions: Based on their functions, the products are divided into several segments, namely, processing and handling of materials, soldering and welding, cutting, milling, assembling and dissembling, painting and dispensing, etc.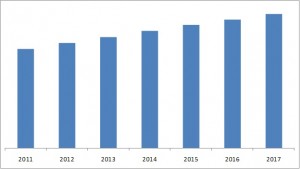 Steady Growth in Current Trends and Forecasting Reports
From manufacturing sector, the market focus has not shifted towards non-automotive applications and small and medium sized organizations. The primary reason behind this shift is the great saturation phase that the market is going through. Modernization of the applications in global industrial robotics market needs strong outlet in the form of dynamic demands. Considering the growing number of small and medium enterprises or SMEs, the market is expected to witness great change in terms of opportunities and expansion prospects. Both small and medium enterprises are economical and close for grabs thanks to globalization. This fact is making positive influence as far as growth of the market is concerned.
The global market is expected to grow at a steady compound annual growth rate. Based on the recent findings, the market for industrial robots is expected to grow at a steady CAGR of 5% from 2012 to 2017. At this rate, the market will reach $32.8 billion by 2017, which in 2012 was worth $25.71 billion. Emerging markets in developing countries and increased focus at non-automotive applications are expected to be the biggest reasons for this steady progress.