Industrial Tapes are amongst the fastest growing types of adhesives and sealants that are used by businesses from the adhesive industry.  These are used for applications such as packaging, electrical & electronic, masking/ protective, and specialized applications. The type of industrial tape differs based on the product it is used for. The manufacturers of industrial tapes lay a greater emphasis on innovations and new product development so as to fulfill the customers' requirements.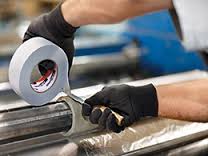 The Asia-Pacific region accounted for the largest market share in 2014 in the Global Industrial Tapes Market. Developing countries such as China, India, and Brazil are projected to be experiencing rapid growth from 2015 to 2020 because of the increasing industrialization. With increasing businesses and manufacturing facilities as well as globalization, the demand for industrial tapes has also grown in the last decade, leading to the growth in the industrial tapes market. The high-growth potential in emerging markets and upcoming technologies provide new growth opportunities to market players.
Filament tape, also known as strapping tape is witnessing the highest growth in the industrial tapes industry. Filament tape is a type of pressure sensitive tape. It can be used for various purposes such as closing corrugated fiberboard boxes, reinforcing packages, bundling items, and pallet unitizing. It is usually made of polypropylene or polyester film and fiberglass filaments which give it high tensile strength.
Aluminum tape, also known as foil tape, has several uses in industries such as electrical, HVAC, and construction. Because of its superior resistance to flames, extreme temperatures, and high humidity, it is suitable for several industrial purposes.
Duct tape is a type of pressure sensitive tape. Duct tape can be manufactured using several backings and adhesives but is often coated with polyethylene. It is suitable for several applications such as packaging, electrical, and automotive. Due to its high resistance and superior adhesive properties, it has witnessed a high growth in the industrial tapes market.
The industrial tapes market serves markets across several industries due to which the business witnessed a sustainable demand and globalization. Due to these factors, the market is expected to witness an unprecedented growth.
Download PDF Brochure @ http://www.marketsandmarkets.com/pdfdownload.asp?id=11202572