Electroactive polymers (EAPs) are popularly used as sensors and actuators. These polymers exhibit great fluctuation in size and shape, when they are stimulated by electric fields. Growing demands for sophistication in various industries and constant technological advancements have opened a great market for EAPs. This substance is a great example of technological advancements and is popularly used as the base material for many motion control applications. All these attributes have contributed to the growing size and business prospects in the global electroactive polymers market.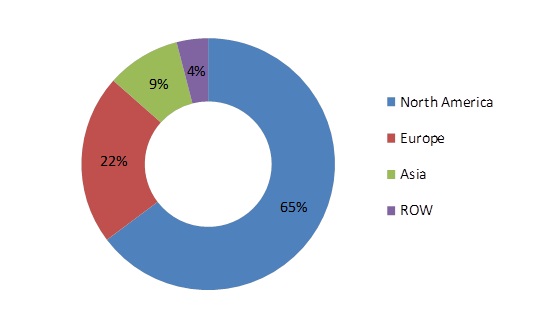 Rising demand for the flexible base materials is one of the biggest driving factors for the global electroactive polymers. Apart from increased demand growing industrial expanse of semiconductor and electronics markets, are also driving this industry. Different technological advancements in both these industries have broadened the horizons of these materials in terms of applications and utility. One can observe great segmentation in this market, which is largely based on the types, applications and geographical demand pattern for EAPs.
Based on the types, electroactive polymers are segmented into conductive plastics, inherently conductive polymers, inherently dissipative polymers and other types of EAPs. All these types have numerous applications across different industrial verticals. Most popular applications include sensors, actuators, capacitors, organic light emitting diodes, solar cells, organic transistors, protection against EMI (electromagnetic interference), antistatic packaging and as a protection against electrostatic discharge.
Europe, Asia Pacific, North America and rest of the world are the four prominent geographical divisions for the market, each having individual market trends. According to the latest trends in global electroactive polymers, that study the trends from 2012 to 2017, the global market is poised to grow at an estimated CAGR of 7.7% from 2012 to 2017. At this rate, the market is anticipated to reach $3.4 billion by 2017. Conductive plastics segment dominated the global industry with approximately 84% of market shares. These figures make it the biggest segment on global scale.
As far as geographical demands for electroactive polymers are concerned, North America is leading global industry and is estimated to follow the same trend for the years to come. North America is followed by Europe, Asia Pacific and rest of the world segments that are poised to mark great progress. Increasing applications, technological advancements, flourishing automotive industry and growing demand for strong base materials are driving the sales and revenue channels in this business. These materials are gaining immense popularity in the fields like smart fabrics, medical devices, high strain sensors and digital mechtronics.