Researching and optimizing various technologies in the laboratory become easier with laboratory automation. Automation technology for laboratories helps streamlining manual manipulation of the lab processes and techniques. This makes the technology a great time saving substitute in the industry. Reduction of overall costs and increasing the amount of accuracy in the processes are the biggest drivers for the global lab automation market. As the global demand for the technology is on the constant rise, the industry is expected to excel at a steady rate. This is a very good sign for the companies waiting to venture into laboratory automation systems market.
Segmentation in market for Laboratory Automation
Constant technological advancements are a huge boost to the industry, which is spreading its wings in different parts of the world. Innovative technologies have also marked huge influence as far as the segmentation in the market is concerned. Apart from technology, the lab automation systems market is segmented based on the types of software programs, equipments, automation, applications and end users consuming these products. Geographic and regional demands for the products are also considered while concluding on the global trends for businesses in the industry.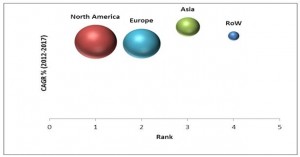 Total lab automation and modular automation are the two basic types of automation for lab technologies. Modular automation has several sub-types including pre-analytics, post-analytical and unit automation solutions. Lab automation technology has five types of basic applications, which include clinical diagnostics, drug delivery, genomics solutions and proteomics solutions. Other applications include cell biology solutions and bio banking. Different research institutes, private labs, hospitals, pharmaceutical companies and biotechnology firms are the prominent end users of this technology.
According to the types of software programs and equipments used in the industry, the market is segmented into six basic segments, which are further divided into different sub-segments.
Automated storage and retrieval systems
Automated Liquid Handling

Pipetting systems
Dispensers
Microplate washers
Automated workstations
Others  including de-cappers and re-cappers
Microplate Readers

Multi-mode: Filter-based and monochromator-based and hybrid
Single-mode: Absorbance, fluorescence Intensity, luminescence detection and others including fluorescence polarization, light scattering and time-resolved fluorescence
Software and Informatics

Workstation or unit automation software
Lab Information management systems (LIMS)
Electronic lab notebook (ELN)
Scientific data management system (SDMS)
Stand alone Robots

Robotic arms
Track robot systems
Forecasting Reports for Lab Automation Market
Majority of lab procedures rely on automation technology, which is boosting the global market. miniaturization of lab processes, high reproducibility, reduced overall costs, increased accuracy, widening lab personnel demand and supply gap and growing investment profile in the biotechnology market are the major reasons for the blooming lab automation systems market. based on the industry analysis, the global market is expected to grow at a steady CAGR of 6.4%. At the estimated growth rate, the technologies industry is expected to surpass $4.2 billion by the end of 2017. According to the 2012 trends, the market was worth $3.1 billion.
As far as geographical demands for lab automation technology are concerned, North America is expected to lead the global industry, which is followed by Europe and Asia Pacific. Asia Pacific and South America are considered as the fastest emerging markets with increasing awareness and growth in the healthcare IT industry. Research outsourcing of pharmaceutical and biotechnology sectors are also contributing to this increasing growth, which is a good sign for positive investments in the respective regions.