The total revenue of MES Market for life sciences industry was $746.77 million in 2013 and is expected to grow to $1,488.40 million in 2020, at an estimated CAGR of 10.53% from 2014 to 2020. The pharmaceutical and biotechnology sectors are the major drivers to the MES market for life sciences industry. Major system integrators are currently on an acquisition spree to provide complete set of solutions from process control to ERP software. The key functions of MES applications vary from industry to industry and also by plant/factory size and complexity of the operations to be carried out. The application of MES has enabled companies in life sciences and medical devices companies to effective batch processing and packaging operations. The Healthcare industry is highly regulated industry across the globe, especially in U.S. and European region. The Lifesciences sector complies with respective guidelines and rules issued by Ministry of Health of concerned countries across the world. The major areas in focus with respect to the products manufactured by the Lifesciences Sector are:
Quality of the product;
Composition of the relevant mixtures used in making of the drugs/medicines and ;
Compliance with the regulatory guidelines.
The MES helps achieve the Lifesciences manufacturers in the fields of product quality, performance of the plant (production & assembly line), traceability, compliance goals and real time monitoring of the process as compared to earlier generation of solutions. The key differentiating factor of the Lifesciences from other discrete industries and process industries includes change of recipe of the drugs yet to be manufactured which are in different phases (pipeline) of the R&D that is in pre-clinical trials, clinical trials and finally approval for production and manufacturing. The MES helps Lifesciences sector with real-time production status; traceability and genealogy of manufactured product; performance analysis of production operations to identify trends and weaknesses; paperless management of production processes to reduce overhead; and operator instructions in the form of schedules, recipes, operating instructions, and batch records.
The lifesciences industry has found itself as new revenue source for the MES manufacturers/producers. Major system integrators have acquired MES system software developers & vice versa in order to widen their product portfolio with primary focus in the pharmaceutical and biotech industries. Some of the major merger & acquisitions, collaborations include;
French major Schneider Electric  (System Integrator) acquired U.K. based Invensys Plc (MES Software Developer)
French major Dassault Systems (3D Software and PLM Solution provider) acquired U.S. based Apriso Corporation
(MES Software Developer)
German Engineering Giant Siemens AG (System Integrator) acquired French based Elan Software Systems (MES Software Developer)
Korber Medipak Systems GmbH, a packaging technologies as well as the manufacture of high-quality packaging for pharmaceutical products acquired German based Werum IT Solutions AG.
ABB Ltd. In collaboration with Ireland based Zenith Technologies to cater to Lifesciences Solutions for Asian Markets
These acquisitions and mergers are executed to serve to the Lifesciences Industry across the globe. The European region is currently witnessing a major overhaul in the increasing governmental regulations, and new requirements that mandate compliance with Food & Drug Administration (FDA) standards and other food safety regulations have made it imperative for life sciences companies operating in the region and also in China and India to be able to accurately track products at all points in the manufacturing process to ensure high quality and safety.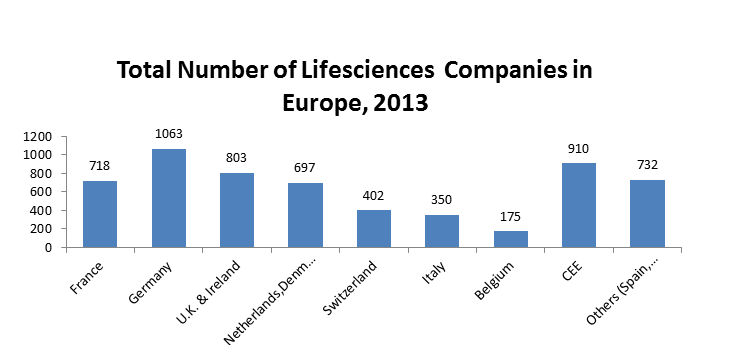 The European Pharmaceutical Manufacturing Execution System Market stood at $60.65 million in 2013 and is expected to reach $211.22 million in 2020 at a CAGR of 19.5% from 2014 to 2020. The major contributing countries/regions to the overall European Pharmaceutical MES market were France (14.0%), Germany (11.0%) and U.K. & Ireland region (10.0%) in the year 2012. The Germany Lifesciences sector leads the number of Lifesciences companies in Europe region with 1063 companies. Germany MES Lifesciences market is expected to grow from $10.49 million in 2013 to $37.42 million in 2020 at a CAGR of 20.0% from 2014 to 2020. The Germany MES Lifesciences market is expected to grow at a steady rate through the forecast period from 2014 to 2020. However, it is expected that most of the companies in the region are expected to deploy MES solutions by the year 2020 for maintaining the production capacity and meeting the demand from international markets. Germany is the largest exporter of Pharmaceutical products among all the European countries. The total pharmaceutical products exported by Germany in the year 2012 stood at $66.31 million followed by Switzerland which stood at $63.74 million (Source: EFPIA member associations, Eurostat and SCA). The workforce (labor) of Pharmaceutical Industry in developed economies/regions such as Western Europe and U.S. is highly capital intensive as compared to the other region of the world such as Central and Eastern European countries, Latin American and APAC countries. In order to reduce overheads and incur minimum cost of production, manufacturers are turning to MES technology solutions that manage their operations across the maintenance, production, quality and inventory management. In a study conducted by German Electrical and Electronic Manufactures' Association (ZVEI), for various end user segments such Food & Beverages, Refinery, Automotive Industry, Single-part Manufacturing Plant, Paper & Pulp Industry and Pharmaceutical Industry, the Return-on-Investment for Pharmaceutical Industry stood at time line of 2 years. Hence, Manufacturers in Pharmaceutical sector in Western European region are focusing on more innovative approaches such as by adopting MES solution to control excessive expenditure incurred in terms of in excess overheads, production delay (material flow/production control), Quality aspects and production planning across the plant.
 For more detailed information click here