Denying unauthorized access is a vital step in the process of maintaining security of various resources, personnel, equipment and property. All these resources have constant threats from different elements, including theft, espionage and terrorist attacks. Global physical security market deals with multiple levels of security systems ranging from security guards to high-tech technological surveillance methods. The industry for these systems is expected to maintain healthy growth in the near future. Increasing application areas and technological advancements in the security levels are successfully driving the industry at steady CAGR.
Physical Security Systems Market Synopsis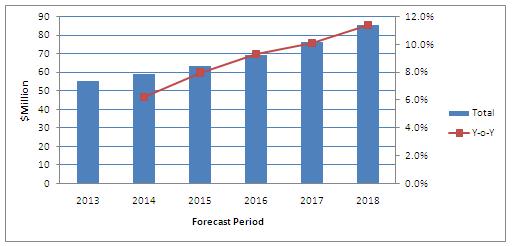 Conventional security solutions are conveniently being taken over by advanced physical security systems. The traditional methods like frisking and armed personnel the industry is swiftly moving past CCTV cameras, information technology based security solutions, biometrics, RFID and a cluster of other high-tech security services. Different government organizations, SMBs, large enterprises, public places and various critical infrastructural areas are on constant threats of intrusions, terrorist attacks, cyber threats, sabotage and espionage. In such case, physical security market helps the concerned with potentially vital solutions.
Segmentation in Global PS Market
Basic segmentation in the industry is based on the types of products, services, applications across various industrial verticals and geographic regions. Following are the details:
Basic segmentation in the physical security market is based on the types of products, which are sub-segmented further. The types of products include access control, biometrics, video surveillance, intrusion detection, RFID, integration and modeling, security systems, situation awareness platforms and other solutions.
Services offered in the market include video surveillance as a service (VSaaS), security consulting, remote management services, alert and warning systems, public safety and answering points and technical support.
Application of the physical security market are spread across various industrial verticals including transportation and logistics, government, public sector, utilities, BFSI, information technology, defense and security, consumer goods and retail, energy and power, education, entertainment, medical and healthcare, etc.
The industry is also segmented based on geographic regions, which include North America, Europe, Asia Pacific, Middle East and Africa and Latin America.
Forecasting Reports from 2013 to 2018
Detailed analysis of the aforementioned segments gives clear insight about the rapidly evolving global industry for these security systems. According to market research reports, global physical security market is expected to grow at a CAGR of 9.0% from 2013 to 2018. By these estimations, the total global market is estimated to grow from $55.59 billion in 2013 to $85.51 billion by the end of 2018. While the industry is currently dominated by developed regions like North America and Europe, it is estimated to be taken over by Asia Pacific and countries from other emerging markets.