One of the most advanced business intelligence technologies, predictive analytics assists businesses in the process of customer assessment. Different tools of business intelligence help the organizations to stay ahead of their competitors. This technology has broadened the horizon of reach and has introduced better management methods across different industrial verticals. Increasing demand and technological advancements across the globe are expected to have great impact on the whole predictive analytics market. Rapid switch made by clients from conventional to modern techniques of customer assessments are the greatest drivers for the global industry.
Predictive Analytics Segmentation and Key Takeaways
Predictive analytics is an umbrella term that comprises of various assessment methods and techniques of analyzing facts and making predictions based on the same. These techniques include modeling, statistics, data mining and machine learning. Using predictive models is a common practice in many businesses. These models help capturing the potential risks in the future, which assists in decision-making about transaction of the candidates. Global market for predictive analytics is segmented based on the types of applications and business verticals where they are applied the most.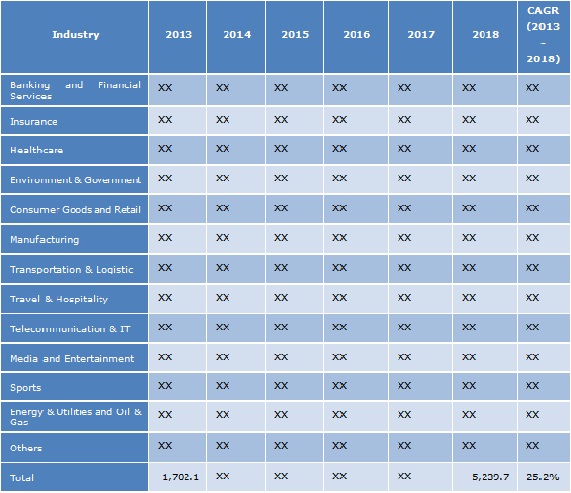 The market is also segmented based on the different geographical regions. Geographical categories in the market include North America, Asia Pacific, Europe, Latin America and Middle East and Africa. Industrial verticals with maximum applications of predictive analytics techniques include BFSI, consumer goods and retail, environment, government, energy, utility, oil and gas, health insurance, media, entertainment, manufacturing, sports, telecom and IT, travel, hospitality, logistics and transportation.
Forecasting and Potential Drivers from 2013 to 2018
Predictive analytics market is largely driven by the increasing demands for these technologies within different parts of the world. Advancements in the techniques have also increased the business prospects in the industry. Rapid growth in the revenue of different industrial verticals (those mentioned above) has created greater areas of applications for predictive analytics. Increasing sales are driving the future of the industry at greater heights.
Based on the market research reports, the global industry for predictive analytics is expected to grow at a CAGR of over 25%. This impressive growth rate us expected to remain steady from 2013 to 2018, which is a great sign for the businesses in various parts of the world. At the projected compound annual growth rate, the market is anticipated to become worth $5.24 billion by 2018, which is currently poised at $1.70 billion. Increasing adoption of these technologies is the basic and the biggest driver for the industry, which is pushed further with increasing demand and supply ratio.