Real-time location systems or RLTS is a unique invention in the IT industry. It can automatically track the location of objects, devices and people in real time using wireless technology. RLTS enables real-time asset or personnel tracking within a facility, while assisting in management through badges and tags. Global real-time location systems market is poised to witness exponential growth in near future. This growth is mainly attributed to the rising demand and attractive applications of RLTS. The technology has strong demand various industries and geographic regions, both of which are strong drivers for the global industry. With continuous innovations in the existing technologies, the market is also expected to maintain the current impressive run for the years to come.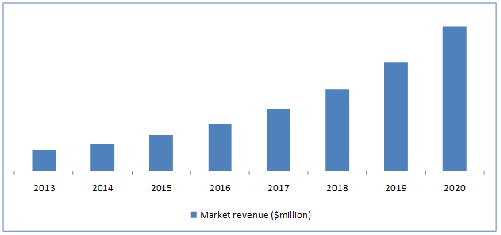 Segmentation in RLTS Industry
 Researchers forecast the future position of the global industry in terms of trends, challenges, opportunities and revenue channels in real-time location systems market from 2013 to 2020. For effective analysis the industry is segmented into different products, technologies, and their applications. The industry is also divided on the basis of the demand from different industrial verticals and geographic regions.
Products: Major products in the industry include software, hardware and services. Hardware segment includes location sensors, badges, interrogators, readers and other products. Software segment includes application, location engine and middleware software. Service segment includes maintenance, installation and other services.
Applications: Applications of RLTS include personnel and staff tracking, asset tracking, asset management, staff safety, patience tracking, environment sensing, work flow automation, environment monitoring and other such applications.
Technologies: Major technologies (wireless) used in real-time location systems market include ultrasound, RFID, Zigbee, UWB, Bluetooth, GPS and others. Amongst these technologies, RFID and Wi-Fi are expected to witness strongest growth in terms of demand and market position.
Industries: Logistics and transportation, BFSI, healthcare, government, defense, industrial manufacturing, process industries, consumer goods, retail, education and hospitality.
Geography: On the basis of geography, RLTS market is segmented into Asia Pacific, Europe, North America and rest of the world.
Business Forecasts for RLTS Market
In-depth analysis of all the aforementioned segments of real-time location systems market suggests that the industry is expected to grow at an estimated CAGR of over 31% during the forecasting period. At the estimated growth rate, the market is anticipated to gain revenue worth $3.70 billion in 2020. In 2013, Americas were dominating the global market. The Americas were largely dominated by North America, followed by South America. Americas are followed by Europe. According the research healthcare sector is estimated to dominate the applications segment. Rising demand and technological advancements are working in the favor of real-time location systems market in this industrial vertical.
Request Sample Today!