Industrial automation is the process of optimizing energy efficient drive systems through precise control and measurement technologies. Increasing demand for power and environmental concerns has created demand for energy efficient solutions in factory automation segment of different industries. As a result, more and more enterprises are adopting advanced smart factory automation technologies. Smart factory is cited to be the future of factory and industrial automation, which are the creating great business prospects for the global smart factory market. According to the experts, smart factory automation industry will continue growing in terms of demand, advancements, global presence and market value. These prospects of growth are expected to influence the demand for these technologies across different parts of the world.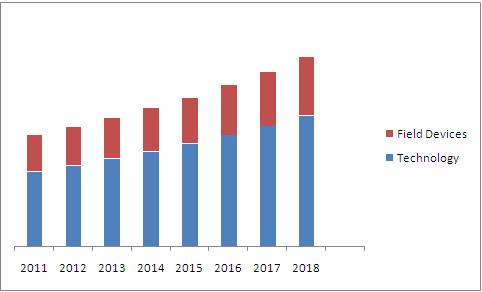 Market Drivers for Smart Factory
Smart factory automation services are fully automated and can help in the process of streamlining the workflow, material placement and manufacturing abilities of the plant. These solutions have varied advantages for an organization, which have spurred the rate of adoption and innovation in smart factory market. Smart factory automation solutions help the factory to increase production and factory output at respective divisions and they also help controlling the manufacturing costs. Smart factory is also a perfect solution to fight material shortage. As a result of all these benefits, leading players across different industries are adopting these next generation solutions in industrial automation. Growing rate of adoption is also influencing innovative applications and technological advancements in the industry.
Segmentation and Forecasting
Smart factory market is largely segmented based on four factors, which include the types of technologies, applications, field devices and geographic demand trends. Detailed analysis of all these segments is the smartest way to gather all the crucial information about the global industry, which also include the future trends and challenges for the market.
Technology: Industrial Control System (ICS), Enterprise Resource Planning (ERP), Manufacturing Execution Systems (MES) and Information Technology Systems (ITS) are the basic technologies. All these segments are sub-segmented further based on their types and demands.
Application: Discrete industry and process industry are the two major segments in application sector of smart factory market. Process industry is divided into chemicals, oil and gas, food and beverages and pharmaceuticals. Discrete industry on the other hand is segmented into mining, metals, minerals, transportation, automotive and packaging.
Device: Wired and wireless networks, chip-based and chip-less RFIDs, switches, relays, sensors and industrial robots of different kinds
Geography: Europe, Asia Pacific, the Americas and rest of the world
Based on the in-depth study of the aforementioned segments, experts are estimating steady growth in the industry. According to the market research reports, smart factory market is expected to grow at an anticipated CAGR of over 8% from 2013 to 2018. Both small and medium businesses and large enterprises in the industry have high expectations from the developing countries in the emerging markets like Asia Pacific, Latin America and Middle East and Africa.