Relatively a new technology, silicon photonics use silicon as an optical medium for data transfer. This technology helps transferring data between different peripherals and computer chips. Gradual rise in the cost of conventional microelectronics is cited to be the strongest reason for the growth in silicon photonics, which is a cost effective solution that provides relief from high operating costs and performance problems. Cost savings is the strongest driver for the global silicon photonics market, which is currently witnessing steady rise in demand, applications and technological advancements. Experts are hoping for the industry to witness exponential growth in the coming few years, which is a great news for the industry and existing businesses.
Segments
Basic segmentation in silicon photonics market is segmented into different products, different markets, applications and geography. Based on geography, the market is segmented into Asia Pacific, North America, Europe and rest of the world. The rest of the world segment includes Middle East and Africa and Latin America. Products in the industry include optical modulators, photonics waveguide, silicon photo-detectors and LEDs, and wavelength division multiplexer filters and optical interconnects. Application sectors include data communication, telecommunications, metrology, sensing, consumer electronics, high performance computing and healthcare.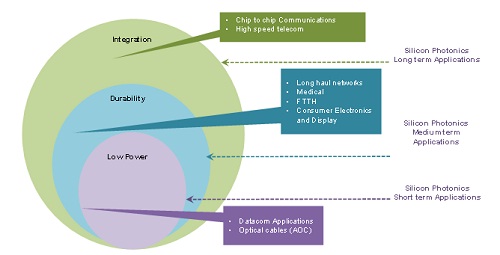 Trends
As mentioned before, rising costs of traditional microelectronics is the strongest reason for the rapid growth in the silicon photonics market. This technology helps gradual reduction of operating costs and provides ideal solutions for high speed data transfer rate. The technology also increased computational capacities of the datacenters. All these factors are driving the industry at an impressive growth rate. In addition to the available applications, the market is gaining rapid momentum with the rise in innovation in terms of technological advancements and applications. Growth of information technology in emerging markets is also an important driver for the industry.
Forecasting
In terms of revenue, global silicon photonics market is expected to grow at an estimated CAGR of 24.5% from 2013 to 2020. During the span of next six to seven years, the market is anticipated to reach $410.78 million in 2020. In 2013, the market was worth $88.66 million. Large amount of this growth is attributed to the growing applications in the telecommunications sector, which is creating great business opportunities for the existing companies in the market. North America is estimated to be the largest segment in the industry, which will continue growing in terms of demand, revenue and applications. North America is followed by Asia Pacific, Europe and rest of the world.