The perception of environmental elements with respect to time and space is known as situation awareness, which is a complex field of study critical to decision makers of an organization. This process involves being aware of the happenings in the vicinity, which help understanding the events, goals, objectives and impact of one's own behavior and actions. Situation awareness systems (SAS) provide vital information about the location, condition, state, status and potential threats to various critical assets. Products available in situation awareness systems market comprise of different technologies, components and products that help in boosting the perception of various environmental elements within the window of particular time and space.
Situation Awareness Systems Industry Explained
The market for these systems started to evolve fairly recently, with constant evolution and advancements in the existing technologies and systems. When compared against decision making, situation awareness stands out as an entirely unique concept. Increasing security concerns of data security is considered to be the strongest driver for the global market, which is currently making its presence felt in various parts of the world. Growing demand for strong data security solutions is triggering advancements in technology to provide information integration with help of network-centric services to different industrial verticals.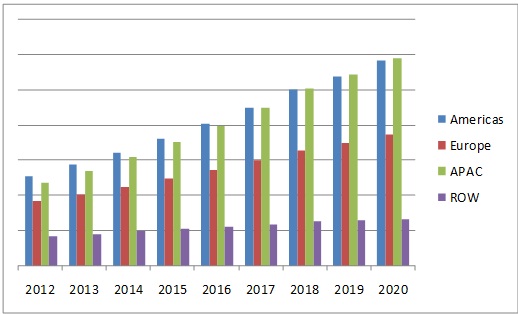 Market Segments
In order to attain detailed information, researchers have segmented situation awareness systems market on the basis of different parameters. These parameters include SAS products, their applications, deployment across various industrial verticals and trends of demand across different geographic regions. Products available in the SAS market include flood and fire alarm systems, command and control system, HMI, CBRN, PSIM, radar, access control, video systems and sonar. Major applications of these systems include driving cars, connected cars, robots, business intelligence, natural resources, cultural resources, bio-surveillance, disaster response, environmental impact tracking, smart infrastructure management and logistics.
Market Trends – What to Expect Post 2013
Data security is a global crisis, which is huge especially for the businesses in different industrial verticals. In-depth analysis of all the aforementioned segments of the market provides details about the trends, challenges and opportunities for different businesses in the situation awareness systems market. according to the reports that study the market trends and forecasts the future trends from 2013 to 2020 explain that situation awareness systems market will continue growing at a CAGR of over 10%. At this rate, the market is estimated to reach worth $168.25 billion by the end of 2020. Technological advancements, cloud computing and increasing demand for information security are expected to be the strongest drivers for the industry.