Younger generation of today is largely influenced by revolutions in information technology. Growing influence of digitization and its various forms like social media, internet, gamification and other such advanced tools are capable to influence the youth in a better way. Digitization has also brought essential and experiential changes in the education sector. Growing demand and awareness towards technological advancements are driving the smart education and learning market. Educational institutes are taking extra efforts to add digital content in learning modes in order to create sensory encouragement. Apart from bringing positive changes in the learning modes, smart education technology also helps in other administrative tasks and office processes.
Segmentation
Smart education and learning technology market is segmented based on the types of learning modes, applications, products and demand for the technology across various geographical regions. The types of smart learning modes include self-paced e-learning, mobile learning, virtual classrooms and webinars, social learning, game-based learning, collaboration-based learning and stimulation-based learning. All these modes are available in the form of different products that include hardware, software, content and different types of devices. Smart learning and education market applications range in healthcare, government, enterprises, business education, higher education and pre-K-12. The industry is segmented based on geographical regions, which include North America, Asia Pacific, Europe, Middle East & Africa and rest of the world.
Forecasting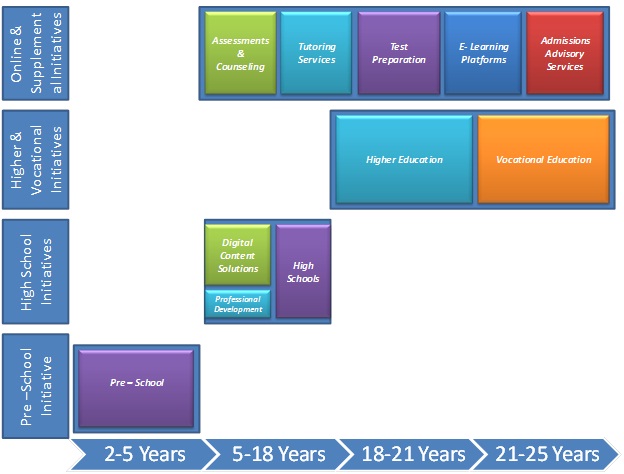 Additions of advanced technologies like gesture support and augmented reality are expected to pose positive influence on smart education and learning market, which is already growing at a healthy rate. Based on the current trends in different segments of the industry, researchers claim the market to grow at over 20% of CAGR from 2012 to 2017. At this rate, the market is poised to witness inbound revenue and increasing business opportunities. In terms of revenue, the industry is expected to become worth $220.0 billion by 2017. The market was poised at $73.8 billion in 2011. Asia Pacific and countries from rest of the world are expected to be the emerging markets for smart education technologies. However, Europe and North America will also retain their healthy growth in the near future.
While services segment is expected to lead the global market, education centers and software programs segments are also expected to maintain healthy growth rate throughout the research time frame (2012 to 2017). Increasing demand and development of emerging markets including BRICS countries, rising awareness towards digitization and its advantages and technological advancements, etc. are some strong drivers for the industry, which is eyeing a secured future.