Automation of power system has numerous advantages in terms of monitoring and distribution of energy across the world. As a result, the power automation market is booming since the past few years. Automation of substations assists controlling and monitoring operations at electronic substations. Power transmission and distributions services are aiming at full automation of the substations. Global substation automation market is consistently growing since the past few years and is expected to cross $100 billion in the coming few years. Technological advancements, communication networks and intelligent electronic devices are IEDs are expected to drive the global market, which is a great sign for the industry. As a result of all these factors, experts are hoping a positive future and steady growth for the global automation market for substations.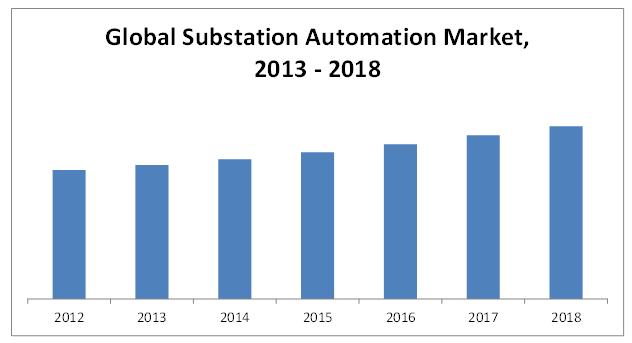 Segmentation in Substation Automation Industry
Substation automation market is segmented based on various essential components of the industry, which mainly include the types of automation, intelligent electronic devices, and SCADA, communication networks and demand across different geographic regions. Transmission substation, collector substation or tie line substation and distribution substation are the major types of substations. Major types of IEDs include RTUs, digital protection relays, digital transducers, logical programmable controllers, capacitor bank controls, voltage controls, recloser controls and so on. On the basis of communications networks, global industry for substation automation is segmented into fiber optics, copper wire, Ethernet and power line communications networks. Based on geography, the market is segmented into Europe, Asia pacific, North America and rest of the world.
Market Drivers and Forecasting from 2013 to 2018
Aging infrastructure of the substations and rising demand for intelligent electronic devices are the major drivers for global substation automation market. According to the experts, several other factors driving growth in the industry include the ability of these systems to contribute to grid efficiency and reliability. Growth in communication technologies and constant advancements in the existing systems are also contributing factors for the global industry. As a result, substation automation market is poised to maintain steady compound annual growth rate of over 9% during the forecasting period. During the analysis timeframe for the market, which studies and forecasts trends, drivers, restraints and opportunities in the industry for 2013 to 2018, the industry is aiming at steady growth. Based on the estimated CAGR, the substation automation industry is poised to become worth $122.94 billion by 2018.
On the basis of geography, North America is dominating the global substation automation market. Strikingly, regions like Asia Pacific, Middle East, Africa and Latin America are poised to witness strong growth during the forecasting period. Rising demand, technological advancements and economic developments in these geographic regions are expected to help the power automation industry to perform above the expectation, which is a good sign as far as business opportunities are concerned.