World is struggling with rising demand for energy in every sector. This sudden rise in demand has put pressure on power sector of the world. Newly invented process of teleprotection assists the industry in this regard. These systems prevent internal and external power failures and damage caused by the same. This vital feature of these systems has surged strong growth in teleprotection market. The industry is expected to record impressive compound annual growth rate during the forecasting period of over five years. As a result, the industry is expected to create better business opportunities in future. Freshness of the market is a positive sign for new potential investments in future.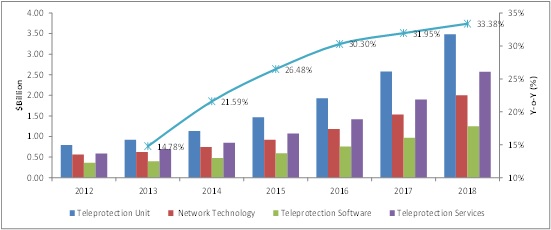 Market Drivers for Teleprotection Industry
Teleprotection market is in its infant stage. According to the experts, this is certainly a positive factor as far as growth and future business opportunities are concerned. Researchers are confident for the industry to perform according to the expectations, which is a great sign for the potential customers and investors in the industry. Growing demand from different industrial verticals is also a driving factor for the market. Several problems of the global power sector including aging grid infrastructure, reduction in transmission, and loss of distribution and great influence of product marketers in multifunctional solutions are some other driving factors for the industry. Growing applications in the mass revenue contribution sectors like aerospace and defense also have vital influence on global market.
Teleprotection Market Segments
In order to understand the depth of the global industry, researchers segment the teleprotection market based on the types of products, components, applications and geography. Geographic segments of the industry include the basic geographic regions like North America, Asia Pacific, Europe and rest of the world. These four regions are further segmented into different countries and regional markets.
Products: Communication network technology, teleprotection units and teleprotection software and services
Components: Interface devices, intelligent electronic devices (IEDs), teleprotection SCADA and communication network components
Applications: Telecommunication, power and utilities, oil and gas pipelines, aerospace and defense, information technology (cyber security) and such other industrial verticals
Market Forecasts from 2013
According to the recent market research reports, teleprotection market is poised to make swift growth at a CAGR of 28.67%. At this projected compound annual growth rate, the industry is expected to become worth more than $9.31 billion in 2018. During the forecasting period, segments like teleprotection software, services and communications network technology are expected to record great growth. Although in its initiation phase, the industry is expected to make rapid growth across different geographic regions. Currently dominated by North America and Europe, the industry is also expecting strong rise in demand and applications from other regions like Asia Pacific, Middle East and Africa and Latin America. Influence of product marketers, rising applications and power demands are expected to be strongest drivers for the industry.