An infrared detector or IR detector reacts to the infrared radiation. Its thermal effect can be followed through various temperature dependent phenomena. The two major types of these detectors include photonic and thermal infrared detectors. The global IR detector market is aiming at healthy growth, especially after 2014. Continual growth in demand and applications of these products is a major driver for the industry. Strong decrease in the price of these products is cited to be a major driver for the global market. Developments in the technological aspects also have a crucial role to play in the market conditions. As a result of all these factors, the market is expected to maintain healthy CAGR for the next four to five years to come.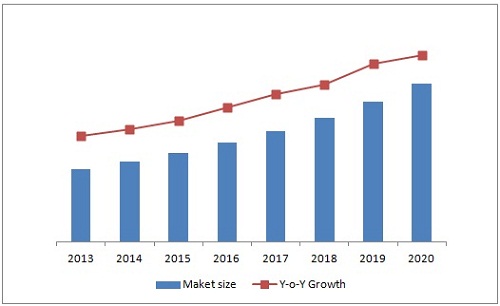 Scope of Research in IR Detector Market
The global infrared detector market is categorized on the basis of the types of detectors and several of their applications. These types include Indium Gallium Arsenide (InGaAs), MCT (Mercury Cadmium Telluride), Microbolometers, Thermopyles and Pyroelectric. Applications segment is sub-segmented into temperature measurement, people sensing, motion sensing, fire detection, gas detection, spectroscopy, smart homes, biomedical imaging, and such other applications. Apart from the aforesaid segments, the market is also categorized on the basis of the geographic segment, which includes Europe, Asia Pacific, Americas and rest of the world. The rest of the world region mainly includes Middle East and Africa.
As per the latest trends in the IR detector market, decreasing prices is the single largest driver, which is expected to remain the same for the next few years to come. It is also the reason why the industry is poised to make strong growth during the forecasting period (2014 to 2020). According to the detailed analysis of all the market segments, drivers, trends, businesses, and all the other components, researchers are anticipating healthy growth for the IR detector market. Latest study reports conclude that the infrared detector market is poised to grow at a CAGR of over 11% from 2014 to reach $704.8 million by the end of the year 2020.
Growth in applications across building and construction, fire and safety, and biomedical applications are expected to help the current growth rate of the IR detector market. Rising demand from Asia Pacific and such other emerging markets of the world are also expected to witness healthy growth during the forecasting period of the next five years. Hence, many established players in the industry are now concentrating on the developing regions for exciting opportunities for business expansions.