Wireless audio systems are known for connectivity and convenience. They offer flexibility of usage and can make audio playback through handheld devices. These devices provide audio signals without power signals and they use other technologies like Wi-Fi, infrared, Bluetooth, Airplay and SKAA. Growth in applications is considered to be the strongest driving factor for the wireless audio device market. The industry is witnessing steady growth since the past few years. This growth is mainly driven by the technological advancements and rapid demand for these products from different geographic parts of the world. Rapid innovations in the wireless technology are expected to boost growth and investment opportunities in this market for the existing as well as potential business owners.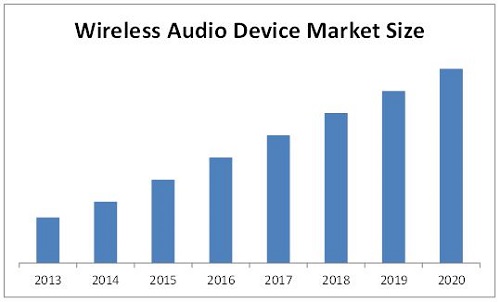 Market Segmentation
Researchers segment this market on the basis of the types of products, which include wireless speaker systems, sound bars, microphones and headphones, radio tuners, power amplifiers, and A/V controllers. The types of technologies in the market are segmented into Bluetooth, AirPlay, Wi-Fi, and such other technologies. Basic applications in the market are divided into commercial, consumer, home, special and automotive applications. Based on the major geographic regions, researchers segment this market into Europe, Asia Pacific, North America and the rest of the world. The rest of the world regions include regions like Middle East, Africa and Latin America. Analysis of all these segments gives clear picture about the growth trends, revenue forecasts and major challenges for the business in this market.
Major Market Drivers and Restraints
According to the experts, the global wireless audio device market is steadily driven by the growth in the world population. There is a constant rise in the demand and production in this market, which is considered to be creating crucial business opportunities for the existing as well as potential players in this market. Strong growth in GDP of the developing regions like Asia Pacific, Latin America, Middle East and Africa is also expected to drive the demand in this market during the next few years to come. Strong rise in demand for smartphones and their better adoption rate across the emerging markets is also a positive sign for the growth of this market. Major restraining factors for the market include side effects on children and operating frequency and compliance issues.
Market Forecasts
According to the experts, the global wireless audio device market is expected to witness growth at a steady CAGR. As per the latest reports, the market is poised to witness growth at an impressive CAGR of over 25% from 2014 to 2020. At the estimated impressive growth rate, the market is expected to reach past $24.52 billion by the end of the year 2020. North America is expected to dominate the global industry on the basis of the overall market share. Based on the highest growth rate, Asia Pacific region is expected to dominate the global market.
Any Query DO speak to Analyst @ http://www.marketsandmarkets.com/speaktoanalyst.asp?id=1275