Rapid speed and reliability highlight today's telecommunication industry, which is evolving at an express rate. Smartphones and other advanced gadgets have become extremely commonplace. Greater penetration of telecommunication networks, technological advancements in the gadgets and the convenience that they bring, has created many avenues to utilize them in different industrial applications. These are some of the major driving factors for bring your own devices or BYOD market. Bring your own device is an innovative concept that allows the employee to use their personal gadgets and devices to carry along with them at the workplaces. The most common devices include smart phones, laptops and tablets.
Bring Your Own Device Market Segmentation
BYOD is an innovative step for most of the business ecosystems, which allows the employees to share essential information organizational database on their own devices. Increasing use of this practice is highly beneficial for business expansions in the bring your own device industry. Basic segmentation in the industry depends on the types of applications across various industrial verticals, types of end-user devices and types of software programs used and shares on these personal devices. Demand pattern across different geographical segments is also taken into consideration for the complete and in-depth analysis of the market.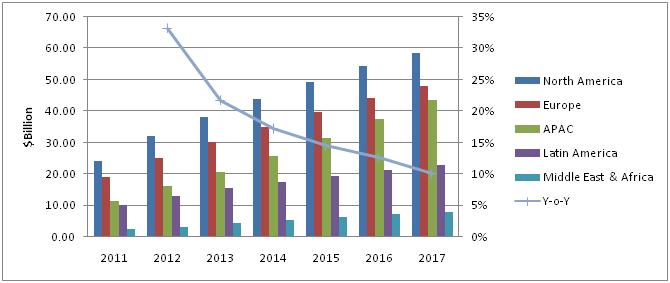 As mentioned before, tablets, laptops, notebooks, phablets and smartphones are the basic end-user devices used for BYOD. Applications of the market are spread across various industrial verticals including telecommunication, manufacturing, banking, finance and insurance, information technology, healthcare, logistics, automotive, healthcare, education and public sector. Different applications of these programs include mobile device management, content management, application management, telecom expense management and email management.
Key Drivers and Forecasting
Based on geographical demand the global bring your own device market is segmented into North America, Asia Pacific, Europe and rest of the world. Based on the recent findings, North America is expected to dominate the global industry on the basis of geographical demand patterns. Detailed analysis of the market from 2011 to 2017 also explains that the industry is estimated to grow at an anticipated CAGR of over 15% from 2012 to 2017. In 2011, the market was worth $67.11 billion, which is expected to become worth $181.39 billion by the end of 2017.
At the same time, North America is expected to be the fastest growing region with expected CAGR of over 12% until 2017. Bring your own device market will be driven by emerging technologies, improved inroads in various business ecosystems and convenience of working even outside the workplaces.