Foldable display is cited to be the most groundbreaking technology in the global display market. This is a type of thin, rollable display that works on LED, OLED, LCD, e-paper and many other formats. Amongst all these formats, flexible OLED is considered to be the most advanced type. It is cited to be future of mainstream display market. Significant development, highly innovative technology, tactile marketing, and freshness of the market are some of the strongest drivers for the foldable display market. Rising applications and projected hike in demand is expected to help this industry to gain rapid momentum in terms of revenue, growth rate, and adoption.
Scope of Market Research in Foldable Display Technology
The foldable display technology is making rapid growth in a successful medium for smartphones, digital signage, television, e-papers, and other consumer electronics and goods. The significant development in this technology during past one or two years is expected to lay strong foundation for the stunning growth of the industry in the years to come. For detailed analysis, researchers have segmented the global foldable display market into different types of technologies, application areas, and geographic regions. On the grounds of geographic demand, the market for foldable display technology is divided into four major segments, which include Europe, Americas, Asia, and rest of the world.
Technology: Emissive display and non-emissive display are the two major display types within the industry. Both these types are further segmented on the basis of their types and demand. Emissive technology is segmented into e-paper and OLED. OLED is sub-segmented into P-OLED, PM-OLED, AM-OLED, SM-OLED and PH-OLED. LCOS and LCD are the two basic types of non-emissive displays.
Applications: Smartphones, e-readers, tablets, wearable displays, smartcard, laptops, television, and POP/ESL. E-paper applications amongst these devices include smartcards, ESL/POP, and wearable displays.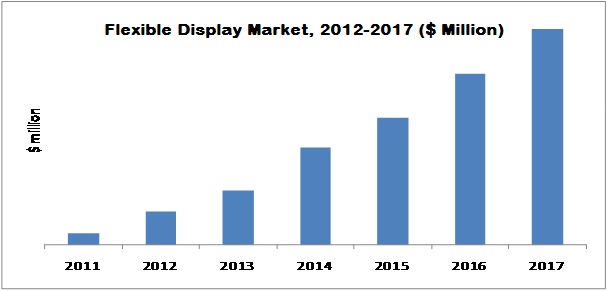 Market Trends, Drivers and Forecasting
The field of flexible electronics is developing at an impressive rate for last few years. Growth in competition, rising demand for innovation, and existence of advanced tools and technology are driving these technological advancements. Major limitations of the existing displays like glass have also created demand for lightweight, rugged, large, and foldable displays. Newer companies are entering the global market for foldable display, which is also driving the current key drivers to innovate and stay ahead in terms of market shares, demand and global presence. All these drivers play significant role in the growth and demand for this technology across different global and regional markets.
According to the market research reports, foldable display market is poised to witness exponential growth of over 41% from 2012 to 2017. During the forecasting period, the technology for foldable display is expected to continue growing across the globe. By the end of 2017, the industry is projected to grow worth $3,298 million, with the Americas leading the overall market conditions.