Flexible display is one of the prominent component of next generation display devices which includes TV's, laptops, smartphones, tablet and so on. A question arises what is so different in the flexible display that every company is running behind it. Answer is oblivious, thrust for giving something different. Consumer electronics industry is evolving very fast, and flexible smartphones can be a game changer application for flexible display. This is mainly because of the fact that huge demand for smart phones. In 2012 approximately 500 million units of smart phone have been shipped and this expected to rise more in coming future.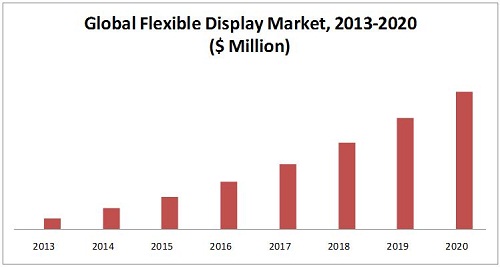 Currently consumer electronics industry is still in growing phase for such applications but three years down the line there will be a huge demand for flexible smartphones, laptops and TV's. Taking into consideration future growth in this segment Samsung Electronics Co. Ltd. (South Korea) had launched world's first curved display smart phone Samsung Galaxy Round, the company had also launched new range of curved display UHD TVs into the market. The LG Corporation (South Korea) is also in the league for entering into flexible electronics market, the company had also launched its range of curved display UHD TVs, curved display smart phone LG Flex, and a wearable device LG LifeBand making a mark into flexible electronics segment. Rapid boom in flexible display end products will also boost entire value chain of flexible display industry; this includes component manufacturers, material suppliers and foundry service providers.
Another feature of flexible display technology is, it can be integrated into LCD, plasma and OLED technology; hence, it turns out to be more advanced as compared to the other displays as it adds the extra feature, i.e. flexibility. Currently LCD technology has maximum share, this mainly due to the ease of availability, low cost and streamlined manufacturing process. On the other hand OLED technology is still in its nascent stage and it will take couple of years to commercialize it fully.
If we compare OLED and LCD we will find numerous advantages of OLED over LCD. One of the prominent advantages will be reduced size and resolution. Imagine a smartphone which you can roll or wear like a wrist watch. In addition to the consumer electronics flexible display can fine its potential use in other industrial sectors which includes automotive and medical.
Download Sample (PDF) –