Synthetic fiber is the improvised version of the naturally occurring fibers produced by animals and plants. These manmade fibers are created through extrusion and have strong characteristics that increase their areas of application. Carbon and glass fibers are two of the finest types of special synthetic fibers. Both these types find numerous applications across different industrial verticals. Rapidly growing demand and low cost are the two strongest drivers for the glass fiber market. as a result, the global market for these products is aiming at strong business prospects across the emerging parts of the world. Growing business opportunities and advancing technologies are some of the vital driving factors for this industry on global scale.
Segmentation in Special Synthetic Fiber Market
The global carbon fiber and glass fiber market is segmented on the basis of the types, appli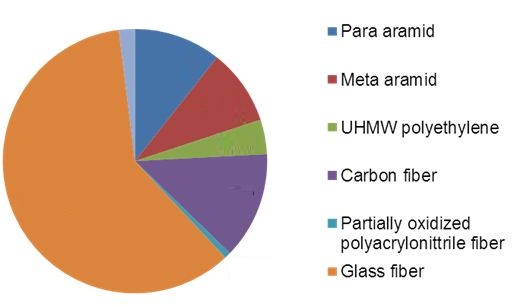 cations, and demand across different geographic regions. the types of products available in this market include para aramids, meta aramids, partially oxidized polycrylonitrile fiber, UHMW polyethylene, glass fiber, carbon fiber, and other types. These types include PPS, LCP, PBO, PBI and such types of fibers. Applications segment of this industry is very vast, which mainly includes application areas like safety, ballistic protection, automotive, wind energy, automotive, medical, industrial, optical fiber, electronics, aerospace and defense, construction and so on.
Drivers for Glass Fiber Industry
The variety of applications and types of products make special synthetic fiber market a versatile marketplace. However, strong demand for glass and carbon fibers are creating better growth opportunities for the businesses concentrating on these segments. The global glass fiber market is strongly driven by the low cost, high durability and strong characteristics of these products. Growing demand from different industrial verticals like automotive and renewable energy markets are expected to create strong demand for the global market in the next few years. According to the experts, demand for greater safety and security as well as growth in the demand for optical fiber, electronics, transportation and renewable energy markets will drive this market.
Restraints and Opportunities
According to the experts, the global market is projected to grow at a steady CAGR of over 5% by 2018. During the forecasting period of the next four to five years, the carbon fiber market is expected to grow at a CAGR of over 10%. Low prices of end products as well as raw materials and strong production scale in emerging regions like China are expected to create strong growth prospects for the glass fiber industry. Growing demand from transport industries like marine, aviation, automotive and aerospace and defense are also expected to improve the growth prospects for this market. According to the experts, the global market is expected to become worth more than $20.1 billion by the end of the year 2018. Glass and carbon fiber segments are expected to dominate the rest of the products, followed by para and meta aramids.