Data warehousing is a computing term, which is a database utilized for data analysis and reporting. These data repositories have integrated data from more than one disparate source. This feature of data warehousing technology helps businesses in various vital processes including marketing strategies and decision making. Modern day digitization and growth in the use social media in day-to-day lives contribute to formation of big data, which is used for different activities including weather forecasting, to business analysis. The big data analytics market is benefitted by Hadoop market, which is poised to make strong growth within next four to five years.
Hadoop and Big Data Analytics Market Synopsis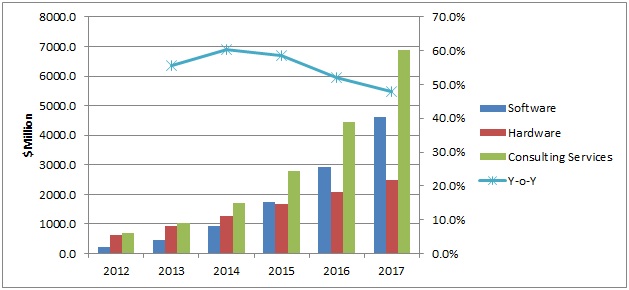 Big data has spread its wings significantly over the past decade, which has also increased its applications across different business verticals. However, the sets of big data are so large that the conventional data management tools are not able to effectively process this information. In this scenario, Hadoop is a strong tool that enables distribution and parallel processing of large amount of information across the servers. Hadoop is an open source java framework, which is emerging as the apt solution to extract only the potential information from the warehouse of information. On global scale, the Hadoop market is reaping benefits from technological advancements and growing rate of adoption across different industrial verticals.
Segmentation
Global Hadoop market is segmented based on the types of services, software and hardware equipment, deployment in various industrial verticals and demand pattern across various geographic regions.
Hardware: Storage, servers and network equipment
Services: training, outsourcing, consulting, integration, deployment, middleware and support
Geography: Europe, North America, Asia Pacific, Middle East and Africa and Latin America
Software: Hadoop software for packaged data, management, application and performance monitoring
Applications: BFSI, retail, consumer goods, manufacturing, government, oil and gas, utilities, gaming, bioinformatics, transportation and logistics, IT and security, education, media and entertainment and healthcare
Forecasting
Only after detailed analysis of all the segments of the Hadoop market, researcher can draw conclusions about the prevailing market trends, challenges, opportunities, revenue, competition and forecasting reports for the industry. Based on the market research reports, Hadoop market is expected to make fascinating growth within next four to five years. From 2013 to 2017, the market is expected to grow at a CAGR of over 54%. At this impressive rate, the market is anticipated to become worth more than $13.95 billion by the end of 2017. The forecasting reports also explain the growth rate amongst various geographic regions. On the basis of geography, North America is holding the largest market share. However, rising demand across emerging markets like Asia Pacific, Latin America and Middle East and Africa will drive these regions at healthy compound annual growth rates.