Mobile advertising, a popular form of advertising, is a subset of mobile marketing and is closely related with internet and online advertising. Smartphones and mobile phones are the major target areas of the industry, along with laptops and desktop computers. The global mobile advertising market is booming with rising demand for this technology as effective technique. However, exponential growth in the demand for smartphones and deep penetration of these products across developing and developed countries is expected to be a major driver for the global industry.
Vital Driving Forces for Mobile Advertising Industry
Mobile as well as cross platform advertising is a very popular form of interactive advertising that are redefining the field of digital marketing. Currently, mobile advertising is emerging as one of the fastest growing technologies in the modern times. Constantly evolving technology is also credited to be a strong reason for the diverse applications of this form of advertising. The global mobile advertising market is segmented on the basis of the types of services, devices, solutions, end-user industry verticals and geography. Although all the services and solutions in the industry serve as individual concepts, they play a vital role in the development of the global market.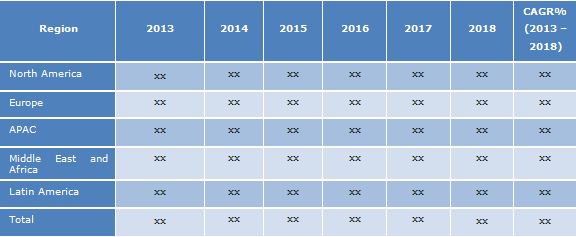 Mobile advertising services and solutions support various types of advertising including SMS, MMS, peer-to-peer (P2P), display advertising, rich media or video advertising, mobile digital coupons, in-app advertising, and voice SMS. The devices used for publishing these ads include smartphones, mobile phones, personal computers, tablets, laptops, smart TVs, notebooks, and such other devices. Based on geography, the global market is segmented into North America, Asia Pacific, Europe and rest of the world. Analysis of all these factors helps gathering information about the current trends in the industry. It also gives a strong competitive outlook, making companies aware of the threats and opportunities.
As per the latest research reports, the global mobile advertising market is aiming growth at an exponential CAGR of over 38%, over the next few years. At the projected compound annual growth rate, the market is expected to reach $76.57 billion in 2018. In the year 2013, the market was worth $15.13 billion. end-user industry verticals with most utilization of mobile and cross platform advertising include retail, consumer goods, restaurants, BFSI, travel, media, entertainment, logistics, transportation, healthcare, supply chains, energy and utilities, manufacturing, government, public sector, academia, and power.
As a result, the global market for mobile advertising is aiming at rapid growth across all the geographic regions. According to the same reports, North America is dominating the global market will maximum adoption, applications, and innovative technologies. Asia Pacific on the other hand is expected to record impressive growth during the forecasting period.