Information technology and constant advancements in this field have made rapid growth in terms of adoption and growth as an individual industry. Mobile payment service is an easy way to make payments through mobile devices. These transactions take place under strict eye of numerous regulatory bodies of various governments. Technologically sound money transfer systems have brought ease in the lives of billions of its users. Widespread use of mobiles and smartphones and booming rise of the telecom and IT industry has a huge role to play in the current state of the global mobile money market. As per the market research reports, the industry is on the verge of witnessing greater advances in terms of investments, expanse, demand and global presence.
Mobile Money Market Categorization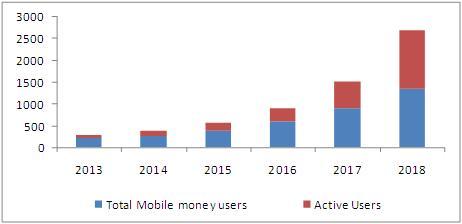 Signs of the recent boom in global mobile money transfer market have been apparent since past few years. These signs are clearly attributed to tremendous growth in the global IT and telecommunication industry. Deeper penetration of the IT services and Ubiquitous use of smartphone even in the developing parts of the world are huge drivers for the global industry. Segmentation in the mobile money market is interestingly based on the types of money transaction modes, nature and location of payments, types of purchase, deployment in different business verticals and demand across various geographic regions.
Location: Remote payments and proximity payments
Nature of Payment: Person to person, business to person, person to business and business to business
Transaction Modes: Smartcards, NFC, mobile web, SMS, WAP, STK or USSD and other modes
Type of Purchase: Top up and airtime transfer, merchandise and coupons, payments and money transfers, digital products food and travel ticketing
Business Verticals: BFSI, consumer goods and retail, media, entertainment, telecommunication and IT, hospitality and various other business verticals
Geographic Regions: North America, Latin America, Asia Pacific, Middle East and Africa and Europe
Market Trends and Forecasting Reports
Global mobile money market has greater business potential as far as the future of the market is concerned. Startups and medium sized businesses are looking to make greater appearance and global presence with their unique and inexpensive services and better offers. As a result, the competition in the industry is getting tougher with each passing day. Interdependency of various business verticals could be labeled as the specialty of this market, which is set to make great progress within next four to five years to come. From 2013 to 2018, the mobile money transfer market is estimated to grow at a whopping CAGR of over 82%. With these stunning figures, the industry is poised to cross $1 trillion by the end of 2018. In 2013, the market was worth $234.4 billion.