Healthcare industry is witnessing phenomenal technological advancements since past few years. Thanks to the booming semiconductor market, healthcare market is going through numerous technological advancements. Medical devices are now available with integrated wireless technology, which makes them convenient, portable and precise. Increasing demand for regular medical monitoring could be cited as the reason for the growing global portable medical devices market.
Features of Portable Medical Devices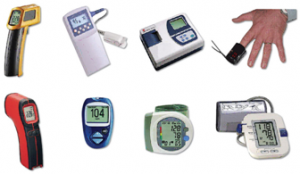 mHealth or mobile health as taken the world it its stride and is coming across as a huge boost for screening and storing different health conditions and present them during proper health checkups. The quality of being able to store exact medical data for future reference is the biggest advantage of these devices. They are compact and easy to carry around, which makes them popular in the mobile healthcare market. These products have improved patient mobility and convenience. Although integrated with advanced technologies and wireless communication capabilities, they are easy to operate with high durability. All these reasons are responsible for increasing size of the portable medical devices market.
Market Size and Segmentation
Segmentation in this market is based on the types of portable healthcare devices, types of semiconductor components that are used and the segment of mobile medical market that they cover. Geographical demand pattern also adds up valuable information about the growth in various segments of the market. cardiac, fitness and wellness, hemodynamic, independent aging, insulin pumps, respiratory devices and ultrasound products are the basic devices available in the market, that are further segmented. Memory chip, IC chips, processor, display, PMIC, sensor and connectivity method are the basic components of semiconductor that are used in portable healthcare products.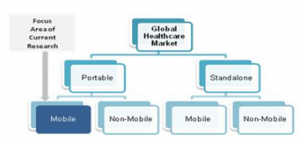 (Image Source: http://www.marketsandmarkets.com/Market-Reports/semiconductor-opportunities-mobile-healthcare-market-1204.html)
According to the recent reports, the global portable medical devices market was poised at over $14 billion in 2013. Experts hint that the market will double in its size, thanks to increasing demands and technological advancements. North America is the leader, especially in the mobile hemodynamic market. Apart from USA and Canada, Europe is also a major contributor to the market. Both these regions excel in the fitness and wellness market of mobile devices. However, rising developments in the healthcare market of Asia Pacific and Rest of the World regions could limit the growth of both North America and Europe.
Increasing concern about health and wellness and government regulations are the prominent regions influencing APAC and RoW. According to the forecasting reports, Asia Pacific region will maintain the highest CAGR.
Contact:
Mr. Rohan
North – Dominion Plaza,
17304 Preston Road,
Suite 800, Dallas, TX 75252
Tel: +1-888-6006-441
Email: sales@marketsandmarkets.com